Cargo vs Personal effects
The transport of personal effects differs from conventional transport by its legal and customs regulations. Siam-relocation specializes in the transportation of personal belongings.
This service is specific and must be mastered for each aspect.
Our success has enabled us to develop a forwarding activity, with Siam-Shipping.
International Shipping company in Bangkok, Thailand.
Thailand is a very dynamic ASEAN country, which offers very interesting business opportunities for multinationals, but also for SMEs. International logistics is one of the determining factors for internationalization and thus to extend its market and prospects for development.
How to find a reliable partner, meeting European/international standards, while having a physical presence in Thailand? the answer is simple: Siam-Shipping.
Managed by a multilingual team, Siam-shipping is a freight forwarder offering classic air-freight, sea-freight, and multi-modal transport services. The service offer is not limited to transport itself but extends beyond, with services of sourcing, trading, supplier relationship, legalization.
The powerful network of Siam-relocation and Siam shipping, allows us reservations of space with the best shipping and airline companies.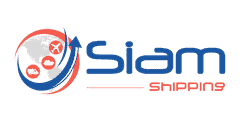 Transportation expert
Siam Shipping is a global logistics company first established in Bangkok in 2014.  As a global freight forwarding company (Air, Sea, Land, Customs, Warehousing, Specialized Warehousing, Courier Service, Distribution, Project Cargo, Bulk Cargo), we have the experience to provide the most cost-effective and efficient shipping and transportation solutions for all kinds of commodities and volume to fit our clients' needs.
Our headquarter is Thailand and we have an exclusive global network of over 20 in-house branches and service centers internationally. There is no destination we can't handle.  We utilize our own efficient feedback and internal communication system to save our partners and their clients time and money.
Our motto is simple: Honesty, Humility, and Gratitude.
We have many partners in the same country as our branches and we HIGHLY respect our partner's businesses and client privacy & confidentiality. Our branches are at your disposal for anything you need.
We've provided services for thousands of our partners and helped build their client relationships and we would like to provide you with only the best service.
In 2013, the Thailand branch opened a specialized warehouse, which includes services for dry normal cargo, but also all temperature AND precipitation sensitive cargo.
Tips for getting an international transport quote
There are many freight forwarders on the Thai market, we recommend you to:
Request quotes from several freight forwarders Prices vary from single to double.
The check excludes services in quotations.
We advise against Thai freight forwarders, as they are not always honest.
Prefer a freight forwarder that you can physically meet.
Communicate in your mother tongue (we do speak Thai, French, and English).
If you are looking for a reliable freight forwarder and installed in Bangkok: Siam-Shipping is at your service!
SIAM Relocation - Best price moving company in Thailand !
Due to our attractive pricing, many customers trust our services and we thanks them. Stop to overpay the services and save money with our tailored package matching will all type of removals, from small volume to full house, let us find the best and cost-effective option.
Communication is important, which is why we strive to discuss in the most suitable way for you!