Sea freight is the most used transportation solution for international move from/to Thailand
Sea freight is one of most famous method for international transport, it combines many advantages mainly regarding the cost and the safety. Although this method is a little slow, for large volumes (generally above 2 or 3 CBM depending on the destination), sea freight is by far the most exploited method. Read our article and feel free to contact our SIAM experts to get further information about this method.

Our sales are here to help you with all the moving process, including every steps of the shipments: packing, warehousing, loading & unloading… Do not hesitate to ask them further information if some point seems not clear.
less than container load (LCL)
For a volume between 0-15 m3, we will use LCL shipment, the container is shared among several shipper (LCL). SIAM relocation offers departures approximately every weeks from main city within Thailand. We are the only ones able to offer competitive sea freight rates due to a steady flow of personal effects. We are part of a larger network including many agent all over the world, all accredited to handle personal belongings.
Note SIAM: For LCL shipment, your goods are paletized in our warehouses to facilitate and secure handling, on departure and arrival. This is also mandatory by international regulation (in order to avoid any issues with others shippers)
Full container load (FCL)
For a volume greater than 15 m3, the complete container is the best solution.
There are 3 types of containers: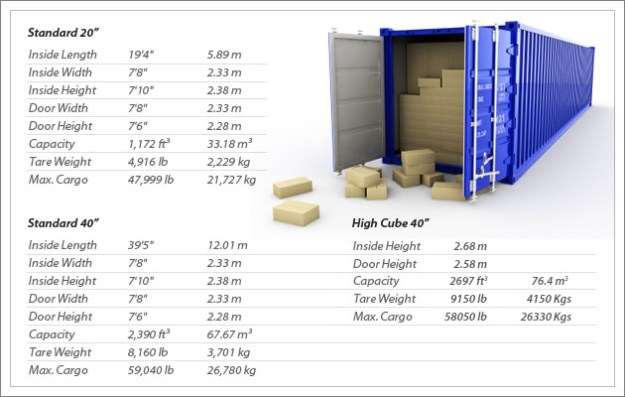 Import service in Bangkok
We are working with the best shipping companies, to offer you the best service at the best price. We prefer fast lines from and to the port of Bangkok.  Our import service located in Bangkok will take over, ensuring you peace of mind. Our experience in Thailand makes us one of the leaders international moving from and to Thailand.

Advantages of the Sea freight
When you need to move your house, you can choose between different categories of transport. These include road transport, air freight, rail transport and sea freight. Each method of transport has his own advantages. Let's see those about the maritime transport:
Competitive cost
If import-export firms opt for shipping, it is mainly influenced by the cost. Sea freight is more economical and generally used by large companies. In addition, it is more convenient than shipping by land or air. Boat can bring a large volume of belongings and its tariff is more competitive. The best solution for an international remain the FCL (full Container) which provide the safest and most economic way to ship.
Ecological
Besides being competitive, you can enjoy transport your belongings with an environmentally friendly expedition. The boat provides low energy consumption and the very few emission of products harmful to the environment. It consumes less energy than land transport or air transport.
A wide range of products to carry
With the use of a shipping company, you can carry a wide range of products. You can carry liquid and solid products (which is very restricted by air freight for example). These products can be carried in the ship. Boat can transport hydrocarbons such as petroleum and petroleum products. It can also transport chemicals, food products, coal, ferrous and non-ferrous minerals, fertilizers and other products such as cement. Boat can also carry industrial equipment, tubes, wood, cars and fruit not transported in refrigerated containers.
Long distance and high transport volume
In case you choose sea freight method, you can enjoy a means of transport on long distance. You can ask a shipping company to bring your products to most of the world's international port destinations.
Maritime transport, the most reliable in international transport
Apart of the competitive price and its high carrying capacity, boat is still the most reliable way to deliver goods. You can also select the transport of your goods through the containers. They secure your goods as much as possible because the containers are tight and strong. So you just have to choose the company that will allow you to transport your products or your goods.
To conclude the article, we let you with this beautiful video : A timelapse at the sea
SIAM Relocation - Best price moving company in Thailand !
Due to our attractive pricing, many customers trust our services and we thanks them. Stop to overpay the services and save money with our tailored package matching will all type of removals, from small volume to full house, let us find the best and cost-effective option.
Communication is important, which is why we strive to discuss in the most suitable way for you!