International mover in Phuket
What is Phuket?
Phuket is a city in southern Thailand, the capital of Phuket Province, which includes Phuket Island and other surrounding islands. In 2007, it had 75,573 inhabitants.
The climate of the city, as of the island in general, is of monsoon type. However, its proximity to the equator minimizes the effects of the monsoon: the seasons are therefore less marked than in central and northern Thailand. Temperatures remain very homogeneous in the year with an average of 31 ° C higher and 24 ° C lower. The average precipitation is 2,337 mm with a peak between April and November (September being the rainiest month, 420 mm on average).
The city was founded at the beginning of the nineteenth century by Chinese and Malay merchants who came to exploit the tin mines. Despite an important fire that destroyed the greater part of the city, it developed and prospered to become the commercial, social, and political center of the island.
The beginning of the twentieth century was a period of strong growth for the city. The exploitation of tin mines and the policy of Governor Rasada Korsimbi contributed to the prosperity and diversification of the economy of the whole island.
Phuket is a seaside resort whose reputation has surpassed the borders of Asia and is no longer just an ideal destination for tourists in search of a change of scenery. It also attracts expatriates who want to live in an exceptional setting of wooded hills, white sandy beaches, rocky promontories, lagoons, small estuaries, a lush tropical forest and limestone cliffs.
Golf, sailing, diving and big game fishing are some of the activities to be discovered in this little corner of paradise. The island has several structures that make life easier on the spot, such as state-of-the-art hospitals, an international airport, and shopping centers. Accommodation offers are plentiful in this city, a monthly rent of 300 dollars for a three-room apartment in a modern building with a gym and swimming pool.
Siam Relocation – International mover company based in Thailand
For your move to Phuket, your goods will first be transported by boat to the port of Laem Chabang or by plane to Bangkok airport. Once unloaded, you will have the possibility to have them delivered directly to the place of your choice, or to store them in one of our secure warehouses.
Siam-Relocation can also manage the packaging and removal of your belongings on-site. Finally, we take care of all customs clearance when your goods arrive in Thailand.
Follow the official link to know more about Phuket
Why moving to Phuket?
Over a lifetime, as many elements as varying can push someone to change country, lifestyle. Whether it's a business or personal motive, many people are considering a move to the other side of the world.
Thailand remains a landmark country for this kind of change, not only because of the lifestyle it offers, but also because of the many professional opportunities that can offer.
Thailand is divided into 4 regions, as diverse and varied as the others:
The central part, where Bangkok and Pattaya are located, has all the characteristics of a megalopolis. Numerous buildings, dense traffic and a particularly unified population make this part of Thailand the most attractive in terms of professional opportunities
In the two regions of the North, we find Chiang Mai in the West and Kon Khaen in the East. This part of Thailand is more rural, and produces a large part of the country's agri-food economy.
The Southern region, where Phuket is located, offers an ideal lifestyle, thanks to its many beaches and countless islands.
Phuket province has about 550,000 people, so 20% are foreigners. The region is famous on an international level, as it welcomes thousands of tourists from all over the world each year.
The main city of Phuket is called Phuket Town. It is in the heart of the region. This part of Thailand is popular with many expatriates from all over the world, be they entrepreneurs, retirees, employees, or just people who want to try their luck at the other end of the world.
Big Buddha – Phuket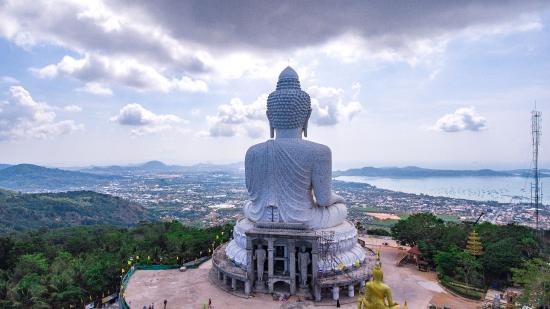 But why choosing Phuket?
Expats and tourists usually choose Phuket for its many beaches all along the coast. Some are very popular throughout the year, while others are more difficult to access and guarantee a perfect tranquility to who will find them.
Basic, Phuket is a seaside resort. It is therefore common to cross everyone dressed in a tank top, shorts, skirts, or open shoes.
The area is also bordered by many islands, each one more magnificent than the other. They are very easy to access at attractive prices, where you can go to masses of land that have served as decorations for many cinematographic works (The Beach, James Bond, etc.)
Phuket is a very cosmopolitan area. Indeed, the premises and the farangs live together throughout the year. It is of course the duty of foreigners to respect local laws and customs, under penalty of heavy penalties.
Thus, the biggest cities are divided into neighborhoods where expatriates of all origins come together, and it is pleasant to be able to go to taste dishes or discover products from all over the world a few blocks away.
For the most affluent tourists are the French, the English, the Russians and the Chinese. They allow this region to live by tourism, especially by the many hotels, restaurants and activities offered. Thus, English is spoken by almost all the population in Phuket, unlike some other regions of Thailand.
A relatively low cost of living:
As in most countries in Southeast Asia, Thailand offers an easy lifestyle at a much more attractive price than in European countries. So, to get an idea, an outdoor meal will cost you around € 3, € 5 for a movie, € 0.5 for a coffee, and about € 150 per month for a nice equipped apartment.
In Phuket, you should know that most of the prices in restaurants or shops are set "at the facies" of the customer. So, in some establishments, you can find Thai prices that do not match the prices on your menu. Do not hesitate to negotiate, this is part of the local customs. Almost all prices can be negotiated in Thailand. On the other hand, do not try to abuse it: always offer a price within reasonable limits.
You can also find everything you need in supermarkets or in small stalls such as the Seven-Eleven or the Family Mart. They are small shops, open 24 hours a day, which market all types of products and which are very useful for troubleshooting in the middle of the night or for a small purchase.
An extraordinary culture:
Thailand is a predominantly Buddhist country, but everyone is free to practice his religion freely. Indeed, it is not unusual to cross a Buddhist temple, which will precede a church or a mosque. The mix of cultures in Phuket offers everyone the opportunity to open to an infinity of customs.
The Thai people very regularly organize cultural or religious manifestations, often very colorful, which are open to all. Thai cuisine is also a must. These are mainly rice or noodle dishes, accompanied by high-quality pork, chicken, or beef. It is a relatively healthy food, composed of many spices and vegetables. On the other hand, although the country has many holidays, split between tributes to the royal family or religious festivals, Phuket lives mainly tourism. The only institutions closed these days will be public administrations, such as visa services or schools.
The Phuket region enjoys a relatively pleasant climate throughout the year. In the southern hemisphere of the globe, the seasons are reversed in relation to Europe. The hottest months are therefore during the winter on the northern hemisphere. In Phuket, the climate is relatively mild throughout the year. The temperature never drops below 15-20 degrees. However, although there is a rainy season in this part of the world, the rains in Phuket are quite rare. Indeed, it rains rarely, but some showers can be quite impressive, although they are relatively short. It is, therefore, possible to enjoy the beaches of the region throughout the year
Whether you are a fan of sports, addicted to thrills, passionate about animals or nature, or even simply curious to visit temples and statues, Phuket is for you. The Thais of the area spend their free time playing football on the beach. They will not hesitate to invite you to join them if you find yourself in the vicinity. Phuket also has many hiking trails, and walking paths for walking or walking. On the adrenaline side, will you venture into a vacuum during a bungee jump or a parachute ride on the beach? Or do you prefer motorsports like quad excursions in the jungle or jet skiing in the waves? For lovers of fauna and flora, the Phuket region has a unique biodiversity. Its climate offers a variety of animals, birds, and insects of all kinds. You can also stroll along trails on the back of elephants or get closer to felines all more impressive than each other. Finally, you will find many Buddhist temples scattered throughout the region. The biggest is the Big Buddha on the Kata side, which monitors the whole area from the top of its mountain and its 25 meters high.
Transportation to Phuket:
If you are a regular at major cities or highways, you will be no doubt pleased to learn that you will leave behind traffic jams and overcrowded public transport. Unlike the capital Bangkok, traffic is relatively fluid in Phuket, and especially much less dangerous. On the other hand, the city does not have a bus, tram or metro, but an impressive number of taxis (cars or scooters) or famous Tuk-Tuk will be at your disposal at any time of day or night. If you prefer to travel by yourself, renting a scooter usually costs a few euros a day. The price of gasoline is also very advantageous compared to European countries. The road network is generally of very good quality, with roads lit and regularly renovated. For the long distances, the prices of the local airlines are very advantageous, and the quality service has nothing to envy to large aviation companies. You can also reach a good part of Thailand by boat or by train, with unbeatable prices.
The Phuket area is also known for its night activities. Indeed, it is difficult to get bored at night given the number of bars or discotheques at your disposal. These are the only establishments that have the right to sell alcohol after midnight and until seven in the morning. For the bars, you can find them for all budgets: from the small open-air establishment that broadcasts its music with A simple computer, at the most crested which will offer you incredible views of the ocean and the sunsets. For nightclubs, the famous Bangla Road of Patong will delight all the night owls. It is a street adjacent to Patong Beach, approximately 1 km long, with some 50 different establishments, often with huge nightclubs, often hosting artists from International fame. Prepare yourselves to make you approach every meter by any type of person: girls, nightclubs, sellers of trinkets or cigarettes know how to take advantage of foreigners a bit tickled. Many events are organized on-site, notably to celebrate the full Moons, half-moons and black moons, which are an opportunity to take part in huge gatherings on the beach to enjoy music and drinks until sunrise
Why Phuket rather than elsewhere?
If you want to go to Southeast Asia, each country has incredible landscapes and resources. It is a part of the developing world, of which Thailand has taken a considerable lead. Although the culture of the country is quite different from ours, do not expect to lose yourself in strange customs. They listen to the same music and watch the same movies as Western countries, feature many McDonald's, Subway, or shopping malls that you feel will be relatively familiar. Unlike the Bangkok area, Phuket offers a "cooler lifestyle ". Many expatriates of all nationalities have settled there, and although many have set up a business or have found work there, it is not unusual to cross them running to the beach to debauchery. Phuket is not a victim of mass pollution since the region has very few factories and the traffic jams are quite exceptional. The government and the police remain very firm about the pollution of beaches and islands. The Thai people who live in Phuket also have the distinction of being very welcoming. Wherever you go, no matter what time, you will never bother anyone and you will always be received with a smile. Just stop on the road and get out a road map to see 2 or 3 scooters that come to rest next to you to help you find your way. No matter what you are looking to do or find, the locals will always try to help you, even if you call many friends or walk a few kilometers. The area also has many natural parks, where you can cross for many monkeys and birds in total freedom. The islands of Phuket are world-renowned for their breathtaking beauty and the secrets they contain.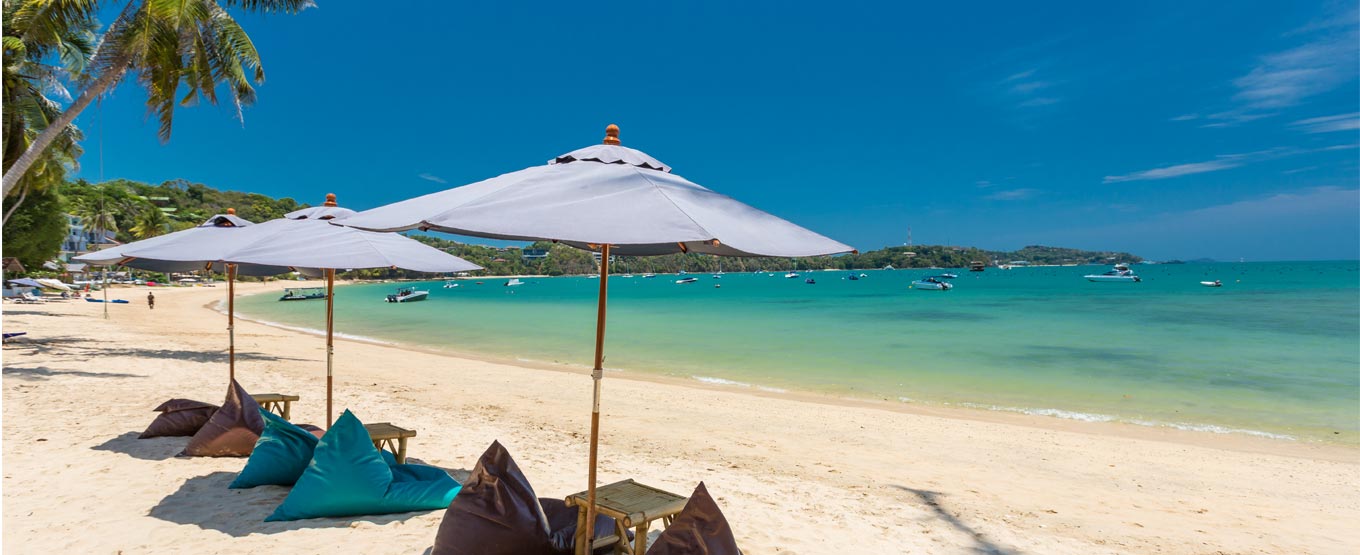 SIAM Relocation - Best price moving company in Thailand !
Due to our attractive pricing, many customers trust our services and we thanks them. Stop to overpay the services and save money with our tailored package matching will all type of removals, from small volume to full house, let us find the best and cost-effective option.
Communication is important, which is why we strive to discuss in the most suitable way for you!