Should I move to Bangkok or Pattaya?
This question was posed for expatriates who hesitated between the chaos of Bangkok, the capital of Thailand and Pattaya, a seaside resort with a sulfurous reputation.
Bangkok or Pattaya have advantages and disadvantages. In this article, we will see the main differences between these two cities.
Bangkok vs. Pattaya
Bangkok is a megalopolis and one of the most visited cities in the world. The streets are crowded, traffic is terrible, pollution far beyond Western standards, but in return there is a multitude of things to do. Every street is lively and it is a cure for boredom.
Pattaya is a coastal city, much smaller than Bangkok. This city is famous for its borderline nightlife.
Pattaya is much smoother than Bangkok. Beyond certain places, you will find calm, silence and a certain lifestyle, ideal for retirees.
Two famous expressions summarize these two cities:
Bangkok is a city with an intense nightlife.
Pattaya is an intense nightlife with a city.
Let's have a look at the expatriate community of Bangkok and Pattaya
Bangkok attracts a mix of expatriates from all over the world, European, American, Australian, Japanese, Chinese, or wherever.
Usually Bangkok expatriates are younger than Pattaya. The reason is that the labor market is dynamic and finding a job in Bangkok is easier than Pattaya. Young Thai people living in the remote provinces are also moving to Bangkok to find an easier way of life.
In comparison Pattaya is a place for a peaceful expatriation or retirement in Thailand, away from the madness of Bangkok. Pattaya attracts foreigners, especially British, American, European, and Russian.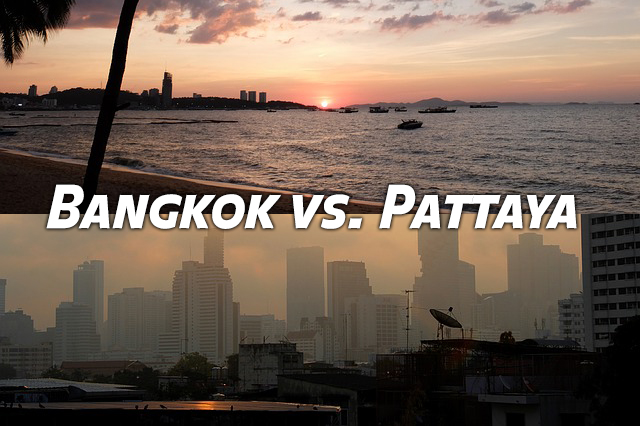 Cost of life
It is difficult to compare the costs of living between these two cities, Bangkok is a capital that offers every kind of standard of living (from the lowest to the highest).
What can be said is that living in the upscale neighborhoods of Pattaya is cheaper than living in the beautiful neighborhoods of Bangkok, living as an expatriate. Despite "touristic price", Pattaya's nightlife is cheaper than Bangkok's
Number made an interesting comparison between the two cities Consumer Prices in Bangkok are 13.99% higher than in Pattaya
Consumer Prices Including Rent in Bangkok are 25.22% higher than in Pattaya
Rent Prices in Bangkok are 58.97% higher than in Pattaya
Restaurant Prices in Bangkok are 6.42% higher than in Pattaya
Groceries Prices in Bangkok are 8.67% higher than in Pattaya
Local Purchasing Power in Bangkok is 85.47% higher than in Pattaya
Transport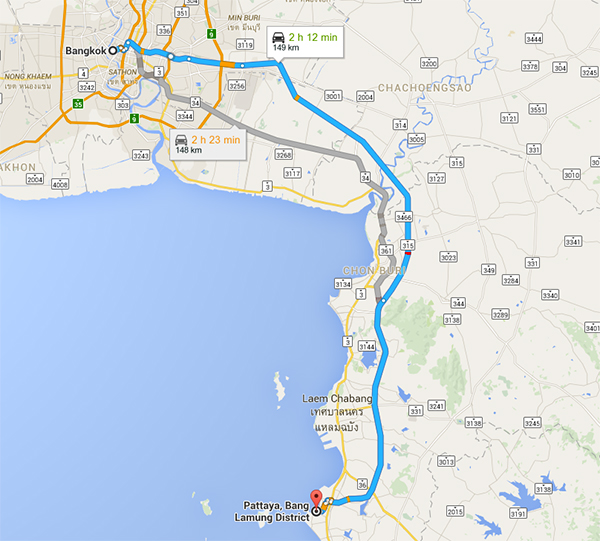 Bangkok has an efficient and sophisticated means of transport. Metro underground or air, serve very well all areas of the city. For more precise routes, taxis, taxis motorbike, or tuk-tuks are available 24/7. Pattaya is limited to Pick up around the city and taxis are often looking to get you the most (charged as a tourist).
Bangkok and Pattaya are not comparable in terms of transport, but the pick up from Pattaya is a fun way to get around. The traffic jams in Bangkok are a scourge that rarely stops. If it is rush hour or if it rains a lot and everyone takes his car, then a simple journey can turn into a calvary.
Traffic in Pattaya may be bad, but nothing compared with the capital. For those seeking a peaceful life, Pattaya wins the duel.
Bangkok or Pattaya, what is the best?
Bangkok and Pattaya are only 148 km away.
Note: Pattaya is located next to the sea, but these beaches are not really nice or clean. The geographical proximity of the two cities allows a certain complementarity. You can have the best of two cities within 2 hours drive only.
Many expatriates see Pattaya as a destination for the weekend.
Many retreats from Pattaya go to Bangkok for medical emergencies, shopping… Even if Pattaya has a large choice of services.
You can very well live in one of the two cities and enjoy each other when the need for a change of air is felt. This is the advantage of the Bangkok / Pattaya combo unlike Bangkok and Chiang Mai located 700km away.
These two cities are magical and have their own identity. Do not let yourself be influenced by reputations and come by yourself to see, feel, enjoy.
To know more about Bangkok, check our dedicated post: Moving to Bangkok
SIAM Relocation - Best price moving company in Thailand !
Due to our attractive pricing, many customers trust our services and we thanks them. Stop to overpay the services and save money with our tailored package matching will all type of removals, from small volume to full house, let us find the best and cost-effective option.
Communication is important, which is why we strive to discuss in the most suitable way for you!