Do you intend to live abroad in another country? Do you like Bangkok and Thailand's fascinating culture? Nearly 30 million tourists visited this enormous city, which is home to more than 8 million people, in 2015. Medical travel is a lucrative sector since Bangkok's facilities are well-known and less expensive than those in Western countries. Bangkok serves as Thailand's financial center and is where the bulk of Thai banks are headquartered. Want to learn more about this location before considering moving away? SIAM Relocation gives you all the resources you need.
DocShipper Advice :Want to move to Thailand? Docshipper will be with you every step of the process, our professionals are at your disposal, providing reliability, accessibility, and safety. Please get in touch with us if you want further information.
Moving to Bangkok: the Pros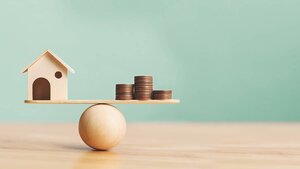 Living in the biggest city in Thailand has several benefits, especially if you enjoy going out.
Cost of living
The capital of Thailand has a low cost of living. It will only cost you $2.07 to eat in a neighborhood restaurant. The cost of housing is likewise relatively low. The cost of renting has little bearing on the cost in France. However, you should be aware that Bangkok has a much higher cost of living than the rest of the nation.
Outdoors: What to do in Bangkok?
The nightlife in a number of Bangkok neighborhoods is well-known. Party goers will like the wide variety of bars and clubs available.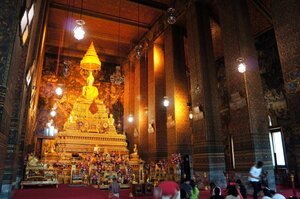 Those who enjoy shopping should also be happy. Bangkok has no shortage of retail establishments. The luxury industry has a strong presence. You can exercise or take advantage of a sizable market on the weekends. In the city, there are lots of gyms.
Here are a few iconic Bangkok locations that shouldn't be missed.
⦁ An enormous statue of the lying Buddha is housed in Wat Pho, the biggest temple in the nation.
⦁ The Emerald Buddha, one of Thailand's most revered statues, may be found at the Grand Palace and Wat Phra Kaew.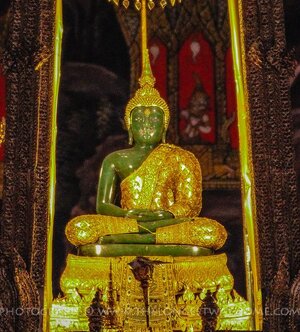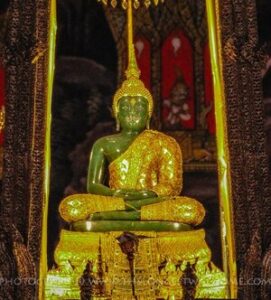 ⦁ Jim Thompson's home is a tranquil, traditional Thai teak-wood building with a lovely collection of artwork.
⦁ The Chatuchak market is only open on the weekends and offers a wide variety of goods, clothing, and regional cuisine.
⦁ The Chao Praya Express is a boat that travels over the Chao Praya river and offers views of Bangkok's scenery.
⦁ One of the biggest retail centers in Asia, the MBK Shopping Center has eight floors.
⦁ Bangkok's Khao San Road has a vibrant nightlife with a wide variety of bars and clubs.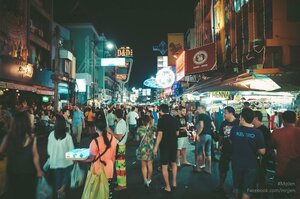 ⦁ Enjoy a drink while taking in the view of Bangkok's rooftops from a rooftop bar.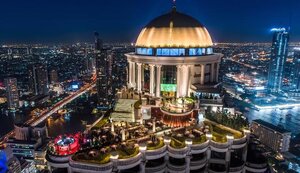 ⦁ Bangkok Lady Boys Show is a vibrant dancing performance.
⦁ A twenty euro budget is required to watch a Thai boxing match.
⦁ The city's two night markets are the Rot Fai Market and the Patpong Night Market.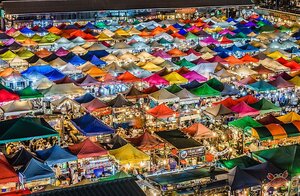 ⦁ The dance performance Siam Niramit represents Thai culture.
Article that might interest you: How to choose an international mover in Thailand 
DocShipper Alert: Although packing is an important part of your relocation, it is sometimes skipped. Big mistake! Even if it is pricey, your packaging will protect your items throughout the entire transit procedure. Ask our relocation experts for guidance if you use our ECO formula and handle the packing yourself.
Thai Food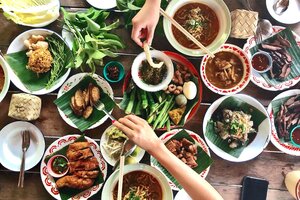 Thai food is flavorful and diverse. There are other, less exotic dishes available for those who do not enjoy Asian food. There are eateries in Bangkok from every country.
The lifestyle
Thai people are renowned for their contagious smiles and tranquil outlook on life.
However, stealing is hardly ever an issue. Bangkok does not experience this ailment, in contrast to other capital cities throughout the world. Without worrying that they will be taken, leave your bags on a table.
Relocating to Bangkok: the Cons
Undoubtedly, there are benefits and drawbacks to residing in Bangkok.
Pollution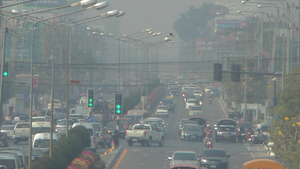 The issue of pollution is still quite problematic in Bangkok. The capital is indeed very filthy. It is preferable to wear a mask when riding a bicycle or walking. A different location should be used if you have breathing issues.
Noise
The amount of noise in the city is absolutely astounding. Bangkok is a city that never stops moving and is constantly occupied. Living in Bangkok can rapidly become quite exhausting and demanding, despite the Thai mentality.
The overall climate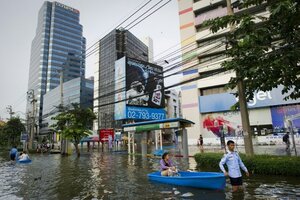 In the city, it is hot. Around 35 °C is the average temperature from March to June. On the other hand, the rainy season lasts from July through October. There is a substantial risk of flooding and the rainstorms are intense.
Winter lasts from November through February, with temperatures between 24 and 28 °C. The tourist season is currently in full swing.
It's good to know that office and public spaces have air conditioning inside. Therefore, it is advisable to cover yourself when going to the store or the movies.
Travelling through the city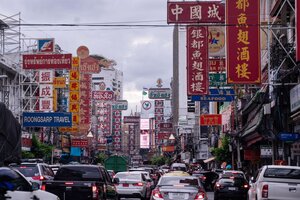 Traveling in Bangkok is challenging. Because there are no sidewalks in the city, pedestrianization is not encouraged. And traveling by car or bus is not more convenient. Bangkok's traffic is incredibly congested and difficult to navigate. There are constantly gridlocks. Be patient in order to go about the Thai capital. The subway or a motorcycle is the best modes of transportation.
However, keep in mind that not all the city is served by the subway and that riding a bicycle can be extremely hazardous.In fact, Thailand has no traffic laws. On the other side, you may find cabs at any time and on every corner of the street.
DocShipper info : Want to send your luggage and personal items to Thailand without running into the danger of losing them or being taken advantage of by a mover? Depending on the items to be sent, DocShipper can provide air freight or sea freight, as well as premium packaging. Contact us to request a free moving quote in less than 24h.
A job in Bangkok
The unemployment rate in Thailand was essentially zero in 2015 (0.8%). The manufacturing, healthcare, high-tech, textile, and hospitality sectors use the most foreign workers. In addition, one of the professions in Bangkok that employs the most people is teaching English, notably in international schools. A teacher in these schools makes at least $1300 per month; if you have more experience, your income will be higher. The average monthly income for an expat is between $2,070.65 and $3,105.98 , and the minimum wage is $1,263.27. 
However, it's important to be aware that several professions in Thaïland, such as those in medicine, handicrafts, accountancy, dressmaking, tour guiding, or hairstyling, are prohibited to foreigners.
Article that might interest you: The 4 best destinations for expatriates in Thailand
Docshipper Tip : You intend to relocate to Thailand. Explore our guide to find all the details you require. Please get in touch with us if you would like to know how much it will cost to move your things to Thailand.
The steps of expatriation to Bangkok
You ultimately decide to relocate to Bangkok. To be expatriated, a few procedures must be finished:
The first step is to obtain information from the Thai embassy in France. The rules governing visas do actually alter regularly;

To live and work continuously in Thailand, you need both a non-immigrant visa and a work permit. There are numerous visas available depending on your individual and professional situations (worker, expatriate family, student, retiree). If you apply for a work visa, you must show that you have the resources to live comfortably in Thailand.
A letter from your company and employment documentation are also required.

To open a bank account in Thailand, you'll need your passport, work permit, and proof of residency. Remember that English is not the language used in many contracts. use an interpreter to help!

In order to live in Bangkok, families must enroll their children in school. The Lycée Français International de Bangkok offers education for students in kindergarten through grade twelve. There are two more bilingual English-French daycare facilities in Bangkok: the Acacia Center and the P'titsBouts. Another choice is to enrol in one of the 40 foreign schools in Bangkok.
   No one can ignore the unsettling nature of Bangkok. When the expat first arrives in the nation, they could face culture shock. However, the French community plays a significant role and helps you feel less isolated in a big city.
FAQ | Moving to Bangkok: Cost of living, Pros & Cons
What is a middle-class salary in Thailand?
The median household income (PPP) in Thailand was $23,076 in 2021.
Is healthcare in Thailand good?
Thailand offers a high standard of healthcare, and treatment can be both better and cheaper than in some Western countries. The majority of medical centers are based in larger cities, especially Bangkok. There are far fewer doctors in rural areas, especially in the poorest regions in Northeast Thailand.
Can foreigners use public hospitals in Thailand?
You do not have to be a resident of Thailand to access public hospitals, you will have to pay for your care there.
How much is electricity per month in Thailand?
At the current electricity rate of 3.7 baht per unit, each household pays an average of 264 baht per month. With the new rate of 4.38 baht per unit, their electricity bill will increase to about 313 baht per month. For consumers who use more than 150 units per month, average use per household per month is 332 units.
DocShipper info: Do you like our article today? For your business interest, you may like the following useful articles :
DocShipper Advise : We help you with the entire sourcing process so don't hesitate to contact us if you have any questions!
SIAM Relocation - Best price moving company in Thailand !
Due to our attractive pricing, many customers trust our services and we thanks them. Stop to overpay the services and save money with our tailored package matching will all type of removals, from small volume to full house, let us find the best and cost-effective option.
Communication is important, which is why we strive to discuss in the most suitable way for you!