Neither too fastidious nor too expensive, the right balance!

With the medium service, all you have to do is pack your belongings. Unlike the ECO offer, you do not load the truck and/or the container.
This offer is ideal for:
Medium size volume (10-20m3)
Some voluminous objects
Average budget
The packing is your responsibility. Once everything is carefully packed, our dedicated staff comes to collect your personal belongings and loads the truck/ the container.
You can get further information about our packing service here.
MEDIUM Package – Neither too fastidious nor too expensive, the right balance!
How does it work?
The truck (0-15cbm) or the container (15-76cbm) comes to your place.
We load the truck or container with your personal belongings, which are already packed and ready to move.
Your personal effects will be palletized by our team at the warehouse of the nearest port.
The container is sealed with a lead
Departure from/to Thailand, we are now waiting for the transit time (more or less depending on the port of departure, the port of destination and the shipping company)
At the arrival, our customs broker will handle your belongings to clear them (on average 5 days)
Delivery and unpacking by a moving team in your new place.
Your international move in Thailand is over, welcome to your new home!
Your commitment
---
You must declare each item on the valued packing list, do not forget anything.
Make sure you do not load objects prohibited to import in Thailand
Our engagement
---
We are a company recognized for its efficiency in transporting personal effects. The medium package is becoming more and more appreciated by our customers for its smooth service. We perfectly master this Medium service.
Your involvement is limited to the packing part, no more. All the upstream and downstream steps are handled by our services, in door-to-door.
*Please note that our packages are just examples. We adapt our offer to your needs: your timing, your belongings and your budget to provide an optimal solution for your move. Your satisfaction is our success!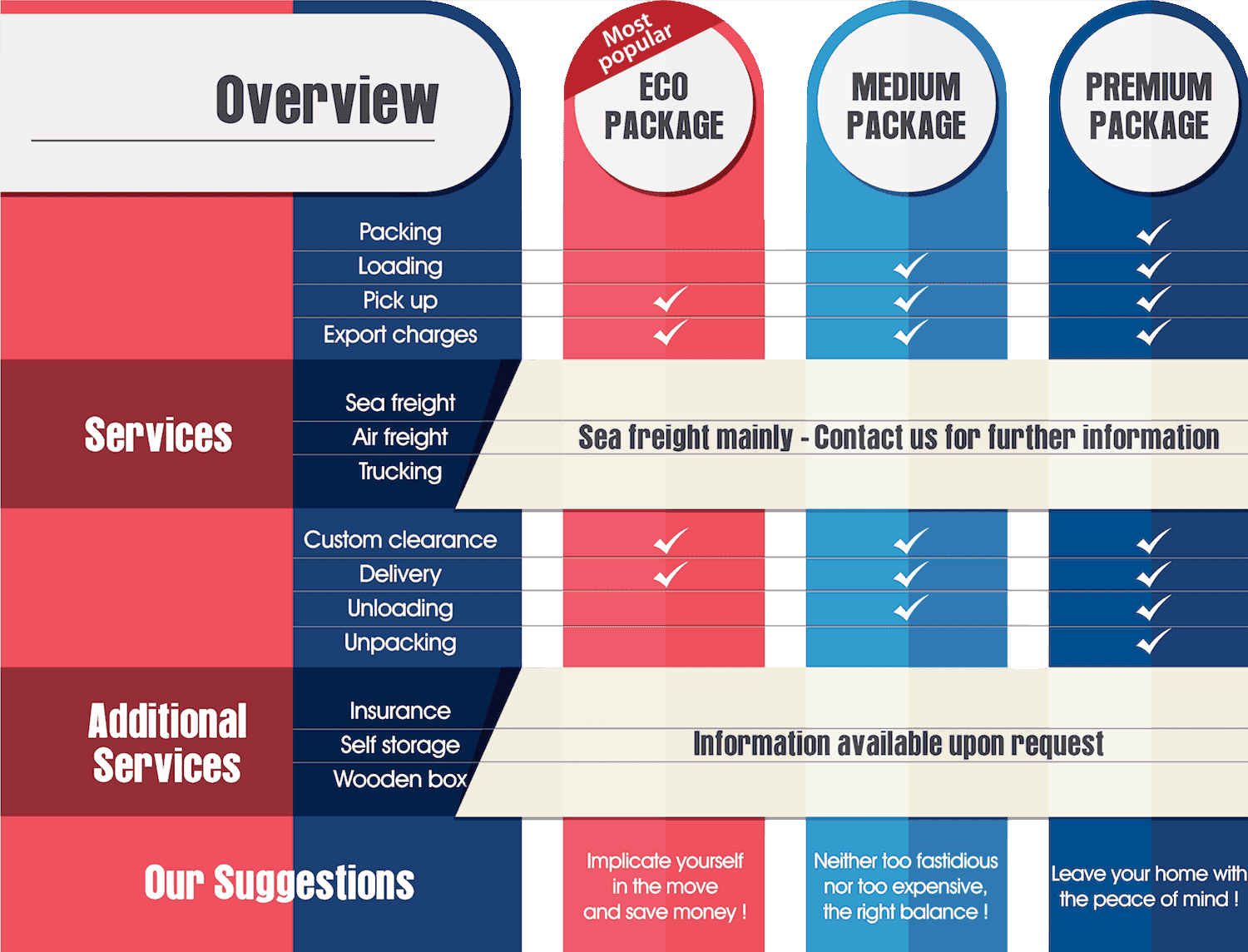 SIAM Relocation - Best price moving company in Thailand !
Due to our attractive pricing, many customers trust our services and we thanks them. Stop to overpay the services and save money with our tailored package matching will all type of removals, from small volume to full house, let us find the best and cost-effective option.
Communication is important, which is why we strive to discuss in the most suitable way for you!