We have put together a dozen tips, quick to implement, that should allow you to make your move a little easier.
Good tips to save your move
Socks to protect your glasses
Rather than putting your socks in a bag, use them to cover your glasses, especially your stemmed glasses. You can also use your sweaters to wrap glass objects like vases.
Plastic plates between your porcelain plates
Rather than wrapping each plate in bubble paper, you can put a paper plate between each of them and then pack them into a plastic bag.
Bottom sheets and mattresses
To protect your mattresses, nothing better than to cover them with your old sheets covers. If you have stored several, you can also use them to cover your furniture.
Colors on cardboards
If you have forgotten to buy labels to indicate the destination of each of your cardboard, you can use colored felts.
Rolling Cases
Do you have suitcases or rolling cases? Use them to carry heavy things like books. Pay attention to your back, as you will always have to lift them to put them in your car.
DocShipper info : Are you planning to move? Do not hesitate to contact our experts, they will answer you within 48 hours!
Garbage bag and clothing
To pack your clothes, nothing better than using large garbage bags. For your jackets, put them on a hanger, slip the garbage bag from the bottom and drill the top to let the hanger hook.
Photos and user manual
If you have to dismantle furniture, consider reassembling them. The best solution to forget anything: take pictures of the different stages of dismantling.
Goldfish
If you have to transport your fish, do not throw away the water in which it lives. Your fish is used to the colony of bacteria found there. Put your fish in a plastic bag filled with water and keep the rest of the water in another bag.
Leave the garage empty
Once you've arrived, don't stack your boxes in your garage and tell them you'll put them away later. "Later" can last for months. Often, the contents of cardboard that are not urgent, could have been thrown away or given before the move.
Unpack the TV last
Once you arrive in your new home, you will definitely have a hard time resisting the urge to sit comfortably on your couch watching TV. A solution against slackness: do not unwrap your TV.
We invite you to check our ECO package to know more about our cheap solution.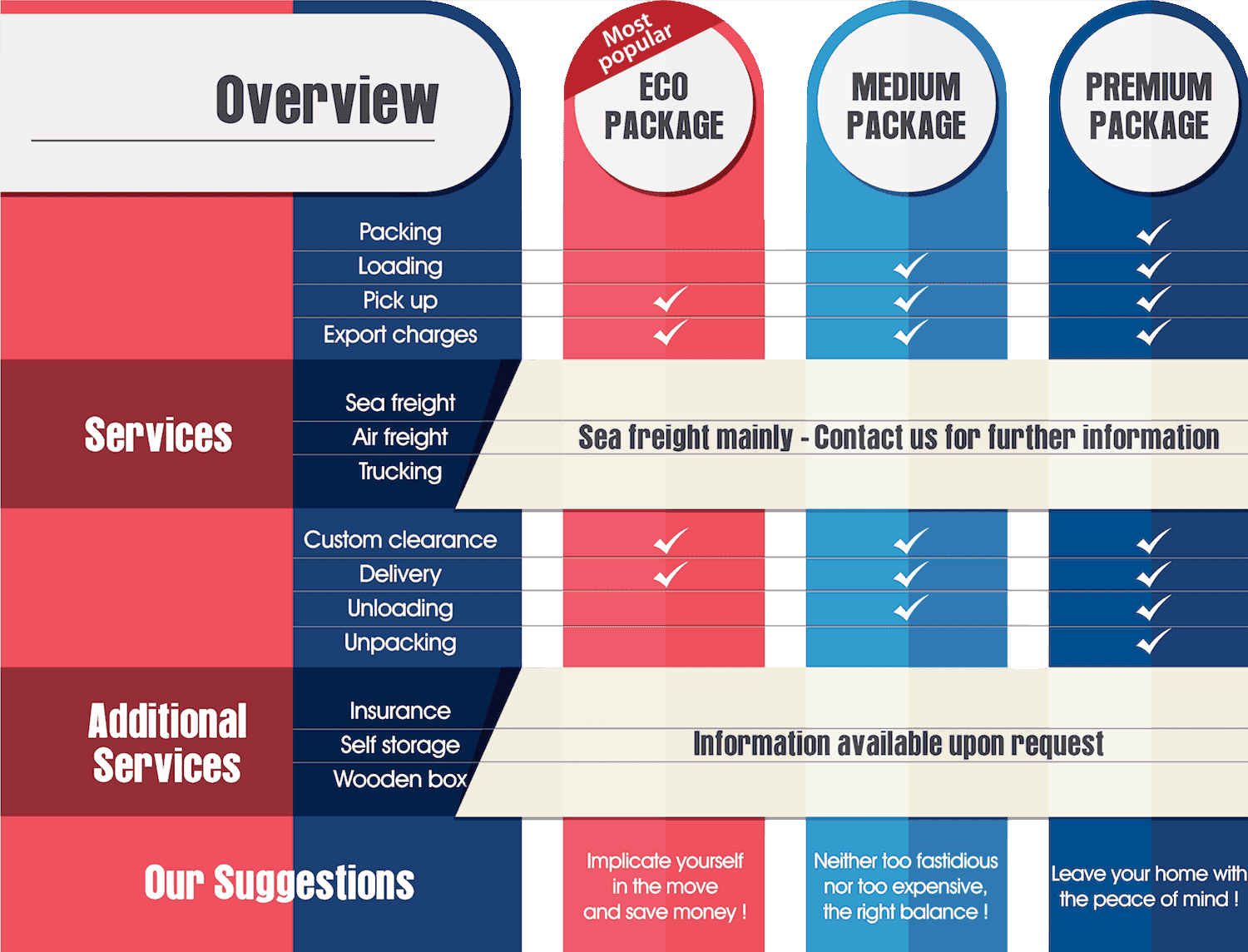 Interested in our services ?
Do you further information ?
Download our brochure (PDF) !
FAQ | Cheap international move
Is it feasible to turn a basic logistical activity into an intermodal transport operation in the middle of a journey?
Consider transferring to another method of transportation to fulfill your deadlines, such as a truck, an aircraft, or a train, if one of your containers is trapped on a container ship in one of the straits through which it must travel and the intervention threatens jeopardizing your company. The only minor point is the cost, which, depending on the procedure, might soon become prohibitively expensive.
What is the justification for a triangle operation?
Companies may choose from a variety of business models based on their activities. Those looking to shorten their transit time, improve the efficiency of their supply chain, and save costs might choose triangular operations.
How can you locate a dependable freight forwarder?
Do not hurry while searching for a forwarding agency; compare services, get quotations, compare their responsiveness, ability to listen to you, and the follow-up they give during your project. Don't hesitate to call Docshipper if you're looking for a reliable agency.
When performing a cross-trade, what should I keep an eye out for?
You must consider neutrality (having a neutral packaging to avoid revealing the product's origin), insurance (having marine insurance to avoid complications during transportation), and lastly the incoterm (in order to guarantee the good transport and the good reception by the buyer)
DocShipper info: Do you like our article today? For your business interest, you may like the following useful articles :
DocShipper Advise : We help you with the entire sourcing process so don't hesitate to contact us if you have any questions!
SIAM Relocation - Best price moving company in Thailand !
Due to our attractive pricing, many customers trust our services and we thanks them. Stop to overpay the services and save money with our tailored package matching will all type of removals, from small volume to full house, let us find the best and cost-effective option.
Communication is important, which is why we strive to discuss in the most suitable way for you!