INTERNATIONAL HOUSE MOVERS AND HOUSEHOLD SHIPPING COMPANY IN BANGKOK
To make your move as simple as possible, Siam Relocation offers you a moving service to the international. With our company everything will take place without any stress for you, for all the different stages of the move. Indeed, we have a highly qualified team in this field who will be able to help you throughout your moving project. International and specialized moves are one of our strengths, we also offer packing services for all the desired destinations.

We have packers in Bangkok and elsewhere in Thailand, it's the same for movers. This will bring peace of mind to the client before his move. You will find a lot of moving company internationally in Thailand but very few of them can offer you the level of expertise that we offer. We also have affordable prices and a team that will listen to you throughout the removal process.
Services related offered
Custom clearance
Door to door service
Packing in departure & unpacking at arrival
Warehousing service
Ocean cargo
Air transport
Trucking transport
Fragile & specific item: art & antique
Vehicle move (car, motorbike, boat)
Animal move
Pre-move survey
Each international move to its own specificities is always different. We want to provide you with the service that will be ideal for your needs. To make this happen and to offer you the best possible offer please fill out the free quote request on our website. That's why we will evaluate your needs fully in order to provide you with the best quotes for your move abroad.
Destination services
The destination of your goods is a very important element to take into account. Indeed this can change things if you are shipping from Thailand. With our many partners throughout the world who know all the specificities of each country the transport is facilitated. For the removal our services include customs clearance, collection at the port, possibly storage, and delivery to the new home. There will also be unpacking and disposal of waste. Our local partners already have a dedicated on-site network to move goods through customs and across borders while avoiding unforeseen delays and costs.
Door-to-door delivery
A door-to-door delivery is a slightly different delivery from conventional deliveries. In this case, the person in charge of logistics is responsible for the removal of the product from the point of departure to its delivery to the destination. It differs from the other services offered, where merchandise is merely brought from a warehouse to a port, from port to port, or from one to another.
Our service
If you want a more transparent way to ship to or from a destination, or if you simply want a service that does not involve intermediaries, door-to-door service is right for you.
Siam Relocation offers door-to-door service to and from any country in the world. With our online quote service, you can get rates for whole integers (FCL) and groupage (LCL) in seconds.
Advantages of our door-to-door service
We offer you a considerable time saving by avoiding having to contact a freight forwarder for each stage of your shipment. Here, the same person will manage your product from his departure to his arrival
The reservation can be made almost instantaneously, whether for the sending of a simple package, a groupage or a complete container
Our rates include not only freight (sea, air or road) but also services such as pick-up, packing or delivery, as well as all dockside tasks.
BANGKOK MOVING PROCESS
Pre-Moving
We handle administrative tasks before the removal.  We anticipate to insurance an optimal move.
Packing
Packing is one of the most important steps of the move, you can do it by yourself of let us handle this step.
Air Freight
Air Freight is an optimal service for small volume: a combination of speed and safety that allows you to ship worldwide.
Sea Freight
Sea freight is the most famous shipping service: It's competitive and safe especially for big volume.
Customs
Customs clearance is a must in International moving, Siam Relocation handle this step insuring a safe move from departure to arrival.
Vehicles
Siam Relocation is able to handle every kind of vehicles: from the small motorbike to a big truck or a boat.
Self Storage
Siam Relocation provide storage service worldwide for short and long term. Contact us for further information.
Insurance
Siam Relocation cover your move thanks to our SiamCare protection service. Safety is our first and most important priority.
Interested in our services ?
Do you further information ?
Download our brochure (PDF) !
Tips for an international move from/to Bangkok
Everybody wants their items to be moved safely and securely. As a result, we have prepared some simple guidelines to help you in making the necessary preparations prior to packing and moving day.
Your Items
All fridges and/or freezers should be emptied, defrosted, and disconnected at least 2 days before being packed and moved.
Remove all bed linens and fold them nicely. Waterbeds should be drained and dismantled accordingly.
All washing machine(s) should be drained, and the bowl or drum should be secured with a stabilizer bar or bolt.
Electrical items such as the stereo, television, and/or home theater system must be disconnected. For printers, the ink cartridges must also be removed.
Batteries should be removed.
Back up all information that is stored on your electronic devices.
Fuel from all mechanical equipment should be emptied.
All outdoor items should be cleaned thoroughly.
Ensure all loose items from the garage and/or garden sheds are sorted accordingly.
Keep an inventory of every item that needs to be moved and ensure our team knows about it.
All self-assembly furniture should be dismantled unless you have made other arrangements with our team.
Certain countries prohibit or enforce strict rules if you intend to bring in certain items such as food and alcohol. Check with our team what are the prohibited items and the possibilities of bringing them over.
Your Premise
Make parking arrangements for our commercial vehicle(s) and ensure we have full access to your place. Notify us in advance if you are unable to make the arrangements.
Let our team know if we need to apply for any special permit(s) or make advance booking(s) in order for us to move items from your premise.
Someone should be around when our team comes, and leaves your premise. The person has to be responsible for making sure all your items that are to be moved, are packed, loaded, and transported.
Make sure your children are taken care of by someone you trust when our team is moving your items in Thailand.
Interested in our services ? Do you need dedicated assistance ?
Our experts answer within 24h !
How should you act with our Bangkok packing team?
Even though the term "tip" is not necessarily appropriate when it comes to rewarding people who must be physically efficient, it is nevertheless common to give money to movers.
The criteria for judging a successful move
Before asking the question of the amount of the premium to give, it is interesting to question the efficiency of movers. Not always easy to do when you have not had the experience of other moves … if you have any doubt about the professionalism of your mover, answer these few questions, they will certainly help you to assess your level of satisfaction on Objective criteria.
Degree of difficulty of the move:
The more complicated it is, the more reward the movers will be if they have successfully accomplished their task. Was it cold to froze his hands? Was the furniture in good condition or should it be carried with great care? Was the truck parked near the loading and unloading area? …
Attitude and behavior of movers:
Were the movers friendly and helpful? Slightly stuffed but terribly effective? Rude? Have they answered your questions without grumbling?
Punctuality:
Were they on time the day of the move, delivery, but also when sending the estimate? Have they managed to deal with any delays related to traffic jams or bad weather?
Management of unexpected events:
Were there any unforeseen events or unpleasant surprises that complicated the work of the movers? Have they resolved them calmly and effectively?
Finally, the last question to ask you: would you recommend them to a friend? If the answer is yes then they must be rewarded.
What tip to give?
Now that you have answered all these questions, you must have an accurate idea of ​​the level of quality offered by your movers. But how to reward them?
First, it is preferable to give an individual premium to each mover rather than a collective bonus to the team leader. If you feel that one of the movers has been more involved, it is normal that it receives a larger sum of money. If you have moved a long distance, it is possible that you have worked for two different teams. Again, you do not have to give the same amount to everyone.
How much to give? If your move did not last more than half a day and everything went well, it is common to give 5 euros per mover. If the move exceeded one day, 10 euros would be more the use. Depending on your level of satisfaction and the complexity of the move, these indicative amounts can be doubled.
It's not just money! The movers will be sensitive to your little touches: throughout the day, offer them bottled water or cans of soda (no beer). In the middle of the morning and in the afternoon, biscuits, chocolate bars will also be welcome. You do not have to offer a full breakfast but an extra sandwich or a good cake will be appreciated. Beware of pizzas! It's always fun except when you eat 5 times a week, which is often the case with movers.
Different factors who influence the price of the move from and to Bangkok
While you have made the same request to several movers, the quotes they have given you are very different. Why these discrepancies?
The distance traveled by movers
Moving companies calculate their quote according to the number of kilometers to be made between your old and your new home. Some discrepancies may occur between two movers because the rate applied per kilometer is not always the same. It also happens, on short journeys, that rather than paying a price per kilometer, the mover charges based on a lump sum, which may be different according to the companies. The distance will also change the way: air freight, sea freight or trucking.
The weight of the goods to be moved
The cost of your move will depend not only on the volume of business to be transported, but also on its weight. The latter is more difficult to estimate from where possible price differentials. To make their calculation, movers often rely on their experience and ask to visit your home to check "on the spot" the information that you have communicated to them. Attention: sometimes some movers make a low estimate to decrease the amount of the estimate and then review it upwards on the day of the move. If you ask for multiple quotes, trust the highest estimate in terms of weight, this is usually the fairest. The weight & volume will also influence the price of the packing service.
The loading time
The price of a move depends on how long it takes to load and unload your furniture, clothing, and items. Again, the estimates made are very empirical and therefore variable. If you are using an hourly paid team, plan to exceed 20% to 30% of the original assumption.
Access to housing
The more the moving truck can park near your dwelling, the lower the quote will be. In case of difficult access situation (narrow streets, presence of trees, lack of parking, elevator cage too narrow, stairs very "steep" …), movers will be able (or not) Use of a goods lift.
Other criteria explaining the amount of the estimate
Other factors may explain price differences, especially if your move is atypical. For example, if you have fragile objects that are difficult to transport (works of art, dishes, etc.), if you decide to move during the holiday period if you should store your belongings for a few days before Be able to move into your new home … Make sure that all costs are clearly indicated in the quote so that you know exactly what is included and what is not included.
How to prepare your international move – Is it necessary to use a professional for the packing?
When you are preparing to move, you usually ask yourself whether a professional mover will be used, or whether you are going to manage on your own. The cost is obviously not the same.
Price is a determining factor
Renting a truck or a pickup truck will undoubtedly be cheaper than the price you will be charged by a moving company. When you do your calculation, remember to consider all the related costs. Prices shown in advertisements for commercial vehicles generally do not consider the cost of fuel that will have to be estimated and added to the rental price. The same goes for tolls, insurance, possible fines for bad parking, packaging materials … in short, many things that will increase the cost of your move in significant proportions. Conversely, a professional mover will mention all costs for there to be no surprise on arrival.
Protection of goods
Damaged furniture or decoration items, damaged electrical appliances … it is rare that there is not a little breakage during a move. The air of nothing, these misadventures can greatly increase its price. But what is the safest solution?
If you decide to rent a commercial vehicle, you will be responsible for loading and unloading your goods. A priori, if you are the only one to take care of it, everything should go well. You will ensure that your most fragile items are properly packed and stowed to avoid any damage. But what if you ask friends to help you? Are you sure they will take the same precautions? You can hardly control everything and if there is a break, you will not be able to turn against them! In conclusion, if you or your friends are not very conscientious, it might be wiser to hire a mover.
But beware: some professionals, especially those who offer incredible discounts, are known for their lack of delicacy in packaging and loading. Our advice: do not entrust your move to the first company that has come and take care of the fragile objects yourself.
Choose the best time to move
Truck rental companies and movers delivering battle all year round, it is possible to make competition compete and negotiate prices down. If you have the opportunity, plan your move outside the June-September period to take advantage of big discounts. Other advice: organize your move during the week rather than the weekend. Schedules are less busy and rates are higher.
If you go through a professional mover, depending on the type of care chosen (with or without packing included), you can also save money. Concerning commercial vehicles, some companies propose to rent them in a single way, which means that they do not have to pay the gasoline and the toll on return.
In conclusion, if "moving alone" is probably more economical than going through a professional, weigh the pros and cons of both solutions. It is better sometimes to pay a little more for more serenity and avoid bad stress.
Freight from and to Bangkok: How to choose the right one?
We provide a wide variety of transportation and storage options to accommodate your needs.
With our state-of-the-art online tracking system, you can track the status of your items whenever, wherever.
By Road
With Siam Relocation, your items are guaranteed to be safely delivered via our extensive fleet of trucks, specially designed for short and long distances.
By Sea
For items that are required to be shipped by sea, we offer container shipping services as an economical way to transport your items in Thailand.
By Air
For the fast movements of your items, we recommended our airline containers by air freight.
Meet all your storage needs
As a global company, we provide our clients with a wide array of safe and secure storage options. Whether you need a place to store your items for a short or long duration, our team of storage professionals are here to provide the best possible solution for you.
Our storage facilities are equipped with state-of-the-art equipment and guarded by well-qualified security personnel to ensure all your items remain protected against theft, water, fire, or pests, 24 hours a day.
Door-to-door comprehensive protection plan
As much as we try to ensure your items arrive in pristine condition, unforeseen circumstances can occasionally lead to damages of your items.
Even with experienced staff, who are known for their professionalism and expertise in handling various shipping items, we understand there will always be risks involved especially during transits and storage.
To mitigate the situation, we offer a comprehensive door-to-door protection to all our clients. The protection includes the replacement of the costs incurred due to the damages caused by road, rail, ship, and/or air shipments.
Maximum coverage, wherever you are
Regardless of where you are currently based at and where are you heading to, we have you and your items covered every step of the way. Our worldwide coverage includes protecting your tangible property as well as personal liabilities. As an added service, we can extend the coverage to protect you and your family should any of you be exposed to political instabilities.
The extent of our coverage only ends when you have safely arrived at your destination. As for our professionalism towards you, you can expect exceptional service to continue for many years to come.
Coverage for your personal property
Our extensive all-risks coverage covers a large number of scenarios including and not limited to when you are on vacation, at home, or on business trips.
All your paintings and antiques are covered under our insurance plan. Also covered are situations involving theft and unknown disappearances.
The insured amount for every item is based on a full replacement cost, unless the item is found to be irreplaceable.
Coverage for your valuables
All valuables such as jewelry, cameras, furs, fragile items, silverware, and golfer's equipment receive an all-risks coverage.
The items are covered based on the value that was agreed upon earlier.
Coverage involving political risks
In the event of political risks such as insurrection, war, expropriation, terrorism, or sabotage, we ensure your personal property and valuables remain protected throughout the period.
The political environment around the world is constantly changing. As a result, we highly recommend our clients to include this coverage in their pre-existing insurance policy.
Coverage involving personal liability
This policy provides worldwide coverage for you and your family against personal injury, unintentional injury, or property damages lawsuits.
It also protects you from being held liable for any third-party damages as well as unauthorized use of credit cards, acceptance of fake money, and forgery.
In terms of medical payments to other people, this policy pays up to $25,000 per injured person.
Coverage involving personal excess liability
In the event that all your primary liability insurance limits have been used up, this coverage helps you to pay for all legal defense costs (if applicable).
Moreover, since this coverage can be extended globally, even if the insured is prohibited from being defended, we can arrange for reimbursements of legal defense costs.
Quality claims handling service
Highly experienced customer service, with a long-standing reputation in providing fast and efficient claims handling services.
We are contactable 24 hours a day via our website, regular mail, fax number and toll-free number
Immigration in Bangkok
Moving on your own can be complicated especially if you are not accustomed to the immigration requirements. With Siam Relocation, our staff are well-equipped with the knowledge and competencies to ensure you and your family not only have a complete understanding of the immigration requirements but are also able to have a smooth and stress-free move.
From processing your entry visas to producing sufficient documentation for the application of your permits, our staff will take care of all of your immigration requirements and processes.
Ensuring your information are constantly updated and kept in perfect order
While you are residing in a new country, there are bound to be some changes to your personal life. The changes include changing jobs, changes to your marital status, or you have recently given birth to your child. Apart from notifying your consulate, these changes should also be recorded at the local immigration office.
As part of our service, we conduct periodical audits of your status and if needed, we will also accompany you to the local immigration offices to ensure all your information is kept updated at all times.
Immigration requirements
For those who would like to familiarize themselves with the immigration requirements in other countries, Siam Relocation has compiled a comprehensive list for your reference. Also included are employment-related issues.
Information for business visitors
There are several types of visas that can be issued to business visitors. If you are unsure of which visa would be the most appropriate for you, head to our FAQ section. We provide in-depth information about business visitor requirements in various countries throughout the world.
Finding The Perfect Place To Move in Bangkok
After all that traveling, you have finally made that bold decision to pack your things for good and move to another country. Before you make that drastic move, how would you know whether the country is the right country for you?
Perhaps you have been traveling to the country several times in a year, however, the duration may not be enough to give you a clear picture of the advantages and disadvantages of adopting the country as your new home.
Over at Siam Relocation, you can rely on the skills and expertise of our diverse team of global relocation specialists. Based in over 50 countries, they are well-versed with the local knowledge and take pride in helping our clients to make clear and insightful decisions. Known for their ability to arrange comprehensive and personalized preview trips, all you have to do is to notify them of your interests, needs, concerns and requirements, and they will do their very best in furnishing you with in-depth information.
As specialists in this field, we are well aware of the amount of stress our clients may have to endure after they have made the decision to move. We assure you that our relocation specialists are capable of providing a smooth and hassle-free moving experience.
Here are some guidelines on what is to be expected throughout the consultation process with our relocation specialists.
Before you set the appointment:
Set aside at least an hour to talk to our relocation specialist about your needs and concerns.
Do an inventory of items you would like to move and leave behind. Do the same for items you would like to bring along with you instead of having it moved by our team.
Bring along some toys and/or books if you are moving with your children.
Check the compatibility of your electrical items if you are moving it to another country.
Go through and understand your employer's Relocation Policy if the decision to move is your employer's decision.
During the appointment, our relocation specialist will:
Discuss your needs, requirements, and concerns.
Go through and finalize your inventory of items to be moved and left behind.
Determine the right packing and handling procedures for fragile and/or expensive items.
Assess your items and determine appropriate protective packaging.
Determine the packing and moving date(s).
Discuss additional services including house cleaning and transporting your car, pet, liquids, food and/or alcohol.
Our relocation specialist will also furnish the following:
About Siam Relocation and how we can work together to ensure a smooth and stress-free moving experience.
Our protective packaging and transit options.
Information on the required paperwork.
Customs regulations and other requirements for overseas relocation.
Risk management and policies.
Relocation in Bangkok: touristic guide of Siam Relocation
Bangkok is growing to be one of the warmest towns for digital specialists and business persons watching for hot condition climatic, excellent quality at cheap price, enjoyment, enthusiasm, and fresh opportunities.
Relocate to any fresh town be able to appear overpowering firstly, and Bangkok is an example. The size of the city, joined with an unusual fresh language and culture be able to let remain a few newcomers confused.
What's the Most Excellent Location to Reside in the capital?
Bangkok is an extremely large city with a lot of sections to remain in. But certain of the most well-liked locations for travelers are not extremely appropriate for expatriates who want to live here. A flourishing night-time entertainment the whole week isn't every time greeting when you require to toil in the morning.
Transport is one more consequential of an idea when deciding where to reside in the city. You'll nearly surely desire to locate on your own close to one of the railway line, whether it be the metro train or the skytrain.
Naturally, you'll be paying an additional amount for housing within a not far distance of the most well-liked railways stops. It's feasible to economize many currencies on lease by selecting a structure a short walk on the bottom of one of the side streets and employing motorbike cabs to arrive from the stop rapidly.
Here are some sections to take into account:
Asok
The crossroads of Sukhumvit Road and Soi Asok is a lively railroad where not merely the route, but the subway and Skytrain railways lines also intersect. Being place just at the intersection is the high-quality fresh Terminal 21 shopping center, having inside every one of kind of stores and eating establishments.
The whole section is likewise full of cafes, bars, and eating establishments featuring all kinds of cooking imaginable, while close Sukhumvit Soi 11 has long been house to a few of the most city's fashion nightclubs.
On the other hand, the lower Sukhumvit section is able to grow to be a little squalid at night and loud close to the main streets. Still, a few calm spots are able to be found hid a bit way down a few of the sois in the section, exceptionally the dead-end streets.

Thonglor / Ekamai
Thonglor and Ekamai districts mark the start of the upper part of Sukhumvit. Thonglor is known as the hipster district of Bangkok. It is full of good locations to consume a food and has a lively night-time entertainment, but lacking the heckling of Khaosan Road or the low Sukhumvit shock factor.
Several of Bangkok's largest shopping centers be able to arrive at within some stations on the Thonglor Skytrain, while the Ekamai Bus Terminal is the place where you be able to get to the city for the Saturday and Sunday.
Silom / Sathorn
Apart from the nightlife section of Patpong, Silom and Sathorn are mainly ignored by travelers. Silom is Bangkok's core trade quarter, and a lot of states own their embassies situated here too.
Thai citizens are inclined to be richer in this section of the city, so there is a broad choice of upmarket of colloquial.
Lumphini Park offers one hundred and forty-two hectares of natural area, faultless for morning or early night jogging. The subway and Skytrain lines cross here to attach you with different sections of the town too.
Victory Monument
The section surrounding Victory Monument can be a bit less will-liked with expatriates but has the benefit of inexpensive lodging than the earlier spoke neighborhoods.
Basing you one own here will offer you an additional genuine Thai knowledge like the eating establishment and stores address more to Thais citizens and not to travelers.
On the Skytrain line, some north's stations will carry you to the Chatuchak Weekend Market, if some stations further south will take you to the very large MBK, Siam Paragon and Central World shopping centers.
Ari, On Nut, Lad Phrao and Rama 4 are some other trendy and popular neighborhoods.
Bangkok Lodging
At present that you have an aim of the place to reside, how are you going to chase your home? There are many online resources to find colloquial and flats for lease in the city.
You are able to begin your investigation by connecting the Bangkok Flats and Condominiums for the Lease Facebook group.
Bangkok Condominium Finder lets you look for lodging by section, subway station, type of property, range of price, and number of rooms. It will likely become more expensive to go thanks to a representative, but the capacity to quickly sort out many properties in this large town might be worth it.
Additional choice is simply to approach the lodging in a section you consider good and enquire the personnel of the corporation's office on a lower floor if they have units available. Often, the structure will have a few colloquial to rent, and they will can to display you the condos directly on the premises, on behalf of the proprietors. This procedure is able to grab additional time and work but be able to economize your currencies by not taking a company and paying for their percentage too.
Travelling surrounding the section likewise offers you a clever idea of ​​what the neighborhood is, so you be able to choose if this is a place you would like to reside in. You may desire to pay no less one stay throughout the day and one night to observe how the vicinity alter when the night begins to fall.
Expenses of residing in the capital
The expenses of residing in the city are greatly lower than that of almost towns in Western states, but it is further up than in different sections of the country.
You are able to likely anticipate paying no less twenty-thousand baht a month to lease a one-bedroom or studio in an apartment block in well-liked places in Bangkok, like as close one of the Skytrain stops following the length of Sukhumvit Road. It's about $ six-hundred USD, but you be able to pay a lot more than that according to the size of the apartment and the place.
On the contrary, you could possibly come across any one thing for half that sum or minus if you are voluntary to reside in a less attractive place or far from the center.
The expenses of the nourishment can also change much according to your consuming food behavior. If you consume food in street booths and plain eating establishments that respond to Thais citizens, you are able to consume food from one to three USD per eating occasion. a meal consisting of dishes from Japan, India, or the West in a good seated restaurant would probably cost between 10 and 30 US dollars.
Transportation expenses in Bangkok should be cheap if you stick to employing Skytrain and subway, autobuses, and motorcycle cabs Driving in usual taxis will often go up your transport, nevertheless, a trip to any town should be less than $ 10.
For regular public transport and taxi trips, you are able to anticipate paying about two thousand baht (or about seventy US dollars) per month.
Of course, entertainment increases your expenses. Imported alcohol carries a heavy-duty, therefore, you could pay about twice as much for a wine bottle as you would have at home. Movie tickets, in parallel, are prefer inexpensive, with regular seating around three to five USD according to the theatre.
There are European employed in Bangkok like English instructors earning around US $ 1,000 a month. So, it is the potential to survive on this sum, but I would not recommend it. To my mind, it is greatly reasonable to anticipate no USD 2,000 per month for residing costs in the city.
Budgeting for this sum will let you take pleasure in a lifetime not be stressed. If you be able to disregard temporarily more than three thousand US dollars per month for a lifetime in Bangkok, consequently you enter the gamut where you be able to very reside.
Bangkok Regional Transport
Move-in Bangkok is at times able to be a complicated issue. In many cases, the highway is jammed with gridlocked traffic. Fortunately, there are a lot of choices for employing railways and vessels to move by completely staying away from the highways. Another advantage is a lot of motorcycle cabs that be able to reduce you many times and perspire by staying away from extensive travels under the warm tropical sunshine.
Railways
Bangkok has a metro (MRT) and a Skytrain (BTS). The sections coated by the 2 systems are slightly restricted because each one has merely 2 lines, but expansion employment is in progress. There is also an airport connection that attaches to the Skytrain and operates at Suvarnabhumi Global Airport.
Railways are the most excellent manner to move in Bangkok rapidly, but their application is not currently equally useful like Tokyo's railway line or other major cities around the world. The Skytrain and the MRT still do not own a universal money paid method, the subway employing electronic coin, and the Skytrain employing magnetic cards.
Purchasing one-way tickets for the Skytrain be able to be a little complicated, as most distributors merely accept pieces. This signifies that you often must stand on one line to change your bills, afterward pass to different lines to place your pieces in the ticket machine.
To reduce time waiting in alter and ticket lines, I strongly suggest buying a Rabbit card that is able to employ for diver's journeys. The Rabbit Card procedure is a bit confusing, because you be able to add at once Accumulate value and thirty-day journeys.
The stored value joined to a Rabbit card is employed to pay the usual fee between stops. It is able to be hoarded on the map 2-year before its expiration.
Thirty-day journeys, on another side, are fixed-price journeys that are favorable merely for the 25 originating stops and not included stops situated on line extensions.
Thirty-day journeys are able to be purchased in packages of thirteen, twenty-five, forty, and fifty journeys that cease to be valid within thirty days of the first employ. This is the greatly economical choice, and the price per trip becomes cheaper plus the package you obtain. Therefore, for the people who have a usual journey to work and back, the package of forty or fifty trips makes consistent.
For added flexibility, you can add the accumulate value and thirty-day journeys on the identical Rabbit card. Furthermore, the Rabbit Card be able to be employed to purchase at some useful stores and at different retail sales.
For the subway, there is an MRT Plus, which is deduced simply based on the full tariff based on the distance (or reduced rate for child, student, and senior cards).
Schemes for a universal map of Mangmoom ("Spider") have been in progress for a few years. At the beginning, it was scheduled to be introduced in two thousand and sixteen but at present is postponed until mid-two thousand and eighteen at the soonest possible
When it is finally completely functioning, the Mangmoom map should make life easier in Bangkok by permitting residents to employ only one map for journeys on Skytrain, subway, Airport Rail Link, Chao Phraya Express Boat and some lines of the bus.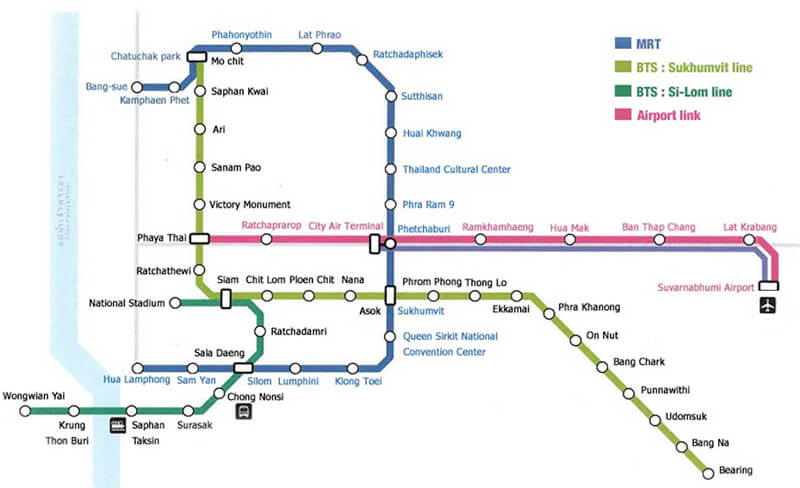 Fly boats and canal
Bangkok was formerly famous as the "Venice of the East" because of the substantial number of waterways that crisscross the city. A while ago, almost have been paved, but certain of those help like necessary traffic blood vessels.
The extremely large advantage of grabbing waterways vessels or the Chao Phraya Express Boat on the principal channel of water is that they do not have to halt for traffic lights or queue of traffic.
The vessels are also very economical. Walks on Khlong boats ("canal") cost only ten to twenty baht. Khlong vessels are able to be especially useful to shift between the most important shopping section of Siam Square and the elderly town district by the river, which is not still attached by all the railway's lines. Click on this link to observe all the information on the itineraries
Chao Phraya Express boats stop on both locations of the Chao Phraya River and connect to Saphan Thaksin BTS Station via Sathorn (Central Pier). Wild boars spring on 3 lines, with tickets expensing only thirteen to thirty-two baht. Press on this link to text all the information of the flyboat assistance.
Cabs
You will hardly ever have difficulty finding a cab in Bangkok. However, it is not always easy to get the conductor to drive you to your destination when using the drive. Despite the rules in force that need cab conductors to employ the gauge and preclude them from declining passengers, often both occur.
Generally, you will have a much better chance of picking up a taxi in motion rather than parking in direct view of a hotel, shopping center, temple, or different place visited often by travelers.
Taxis begin at only thirty-five baht (one US Dollars) for the first two kilometers.
Uber and Grab
Like in a lot of regions of Asia, the popularity of personal taxis applications like Uber and Grab has sparked conflict with the government and customary cab conductors.
When competitors are able to offer superior assistance at a lower or same price, it is not surprising that cab conductors feel in danger.
When I wrote the article, Uber is available in Bangkok, although officially prohibited. Grab Taxi, meantime, made a partnership with usual cab conductors, so you can command a normal taxi using the application-with a Surcharge of 25 baht stuck on the usual price.
In the future, the circumstances may well alter.
Motorcycle cabs
Motorcycle cabs function like jointly-run business situated at the entrances of major airports and different key places like Skytrain stops. They are an inexpensive manner to rapidly make terrain for a length walks, but not precisely the securest way of transportation.
You'll truly learn to like motorcycle cabs when twenty baht be able to rescue you from ten minutes ride in great warmth and dampness.
Tuk-tuks
No conversation of haulage in the city would be entire without speaking of the emblematic three-wheeled cab comprehend like. Travel in a tuk-tuk is an element to be crossed on every tourist's list of things to do.
The real travel, nevertheless, is able to let remain a lot to be desired. Tuk-tuks are noisy and usually cause a cloud of bluish-gravy disgusting exhaust. They are able to be warm throughout mid-day, and the rear seat design puts the passenger in an awkward posture with a poor view of the road because of the shape of the roof.
You must know that driving a tuk-tuk during the monsoon will leave you very wet, and in the case where you collide, they would not offer much protection to the passenger.
However, to go to a place too far on foot, tuk-tuks be able to be inexpensive. You must discuss the cost with the conductor before leaving, with little walks typically from fifty to one hundred baht. If the conductor desire more than one hundred baht, this is evidence that you must take a taxi with air conditioning for that distance.
The buses
Bangkok has an extensive interrelated system of bus routes, including air-conditioned and non-air-conditioned buses. Then, they propose a value for money transport for the bulk, in many cases buses are packed and blocked in circulation. Off-peak hours, nevertheless, a bus trip can take you to your destination not moving fast than a cab, and at half the cost.
Press on the link to observe a lot of information on Bangkok bus lines.
Arrive at/from the airport
Bangkok has two main airports. The first airport, Don Mueang (DMK), situated north of the city, while the newest airport, Suvarnabhumi (BKK), is oriented to the southeast.
The easiest way to go from the newest airport to the city center is to take the Airport Rail Link railway line. Employing the airport rail link, it is possible to change to the Skytrain from the final stop (Phaya Thai) or grasp a short cab ride from there to your destination. If you have big bags, however, you'd better take a taxi all the way.
When you arrive at Don Mueang Airport with the least possible baggage, the best manner to arrive at the city is by bus from the airport to Mo Chit Skytrain stop and take the railway from here. The bus grabs the highway, so it's almost equally quick like a cab without you having to pay the road fee on your own.
A well-liked tip for those who take a cab from whichever of two airports is to move on the direction of leaving room take a cab that drops off a passenger. Although formally disheartened, this would economize you the airport overhead of 50 baht and waiting in the cab line.
Bangkok travel guide
Temples
The city has a lot of temples. Approximately a dozen is very big and of historical significance. Some of them need strangers to pay an entrance fee for entry, but habitually a low sum.
A lot of other slight temples are all over the place throughout Bangkok and maybe arousing interest to explore and look at. When visiting a temple, do not forget to dress without arrogance and act properly.
Wat Phra Kaew
Wat Phra Kaew (or "Temple of the Emerald Buddha"), is the greatest destination for all foreign tourist groups that come to Bangkok. Exactly, it be able to grow to be extremely swarming with travelers, visiting to this differently splendid temple totally not endurable.
Since the temple is a part of the Grand Palace complex, you should dress conventionally in long pants or skirts and have covered shoulders to go inside. There is a relatively expensive entrance cost of five-hundred baht (USD fifteen) for travelers too. It's advisable to come before the 8:30 am opening time to attempt to defeat the crowd, and I recommend you choose a cloudy day to go to the temple because gardens can become unbelievably warm under the sunshine.
A remarkable characteristic of Wat Phra Kaew is the long mural that runs along the inside of the outer wall of the temple. The painting represents the occurrence of the Ramakian, the Thai modification of the Indian epic Ramayana.
The Emerald Buddha sculpture itself is sculpted from hard gemstone. The sixty-six centimeters tall Buddha picture is esteemed the nation's protective amulet and earlier was grasp by the different sovereigns on the cities of Chiang Rai, Lampang, Chiang Mai, Luang Prabang, Vientiane and Thonburi before eventually relocating to Bangkok in one thousand and seventy-four.
Wat Pho
Wat Pho is the second most visited temple in Bangkok after Wat Phra Kaew. It is also the biggest temple in the city, and in spite of the crowd, it's always feasible to go in a calm spot in the sprawling gardens too.
Wat Pho is the most well-known for an enormous lying back Buddha sculpture, the substantial number of travelers who come here make a line of bees to the structures that houses it. The posture of the Buddha – reclining on his right side – depicts the position he takes during his death or parinirvana. One of the most holding attention features of the forty-six meters long sculpture is the bottom of its feet, which contains 108 intricate auspicious symbols decorated with mother-of-pearl.
Wat Pho is a learning center in the skills of customary Thai massage and phytotherapy. Massage therapists from across the country reach here to get formation and a certificate.
Wat Suthat
Wat Suthat is likely my favorite temple in the city. It is another great temple, with comprehensive motif and splendid structure, but fortunately spared by group tour buses that descend on Wat Phra Kaew and Wat Pho.
Wat Suthat is an "alive" temple too, with usual assistance to the regional society. It is not unusual to find Thai citizens sitting in the calm in spiritual contemplation in the main meeting room.
The main image of Buddha at Wat Suthat has been shifted here from the rubble of Wat Mahathat to Sukhothai. It is a stunning and motivating sculpture, with probably the most wonderful dimensions of any Buddha picture in the country.
Every centimeter of the interior walls of the meeting room is coated with very intricate and interesting murals portraying scenes from Buddha's past lives.
Just outside the gateway to Wat Suthat is the Giant Swing, which was once used at an annual occasion during which youthful men were trying to get a bag of gold hanging overhead of the soil. Over the years, so a lot of people have died trying, that the event was conclusively interrupted in the 1930s.
Wat Saket
Wat Saket is comprehended like the Temple of Mont d'Or too. It includes a golden chedi, or stupa, perched on top of a made-man hill that has formed because of a greatly wider chedi that has collapsed.
The Mont d'Or is home to what is trusting to be a genuine religious memento of the historical Buddha. The bone scrap was found during the hole of a stupa in Nepal by the English and offered to Thailand in 1998 by Lord Curzon, Viceroy of India.
At the summit of Mont d'Or, you are rewarded for climbing stairs with agreeable wind and a three hundred and sixty degree panorama of Bangkok's historic quarter.
If you ever obtain these boring 2-baht coins with your change, you will see that the picture on the back is the Golden Mount stupa.
Wat Benchamabophit
Comprehend like the Marble Temple, Wat Benchamabophit is sole for the mottled stone of Italia employed to build the principal hall and quadrangle too. This remarkable job of work of buildings is presented on the other side of the five-baht room.
Wat Arun
Situated in Thonburi on the west side of the Chao Phraya River, Wat Arun is undeniable for its very tall Khmer prang (spire).
Popularly comprehend like the Temple of the Dawn, Wat Arun is maybe the most prettily scenic when seen early in the morning on the east side of the river, like the rising sun strikes its spire. From close, we are able to observe the outer side of the prang of the temple is coated with a lot of parts of Chinese glazed porcelain.
Museum and monuments
At one point, every person in the city should go to the National Museum of the capital. The exhibits include artifacts from not only the very old Thai countries such as Sukhothai and Ayutthaya, but from the entire territory like China's Tang Dynasty, India's Gandhara, Java and the Khmer Empire of Cambodia too.
The people with a solid stomach may want to visit the Siriraj Medical Museum, situated at Siriraj Hospital. In the midst of the exhibits is the mummified body of the most famous serial killer in Thailand. You are able to observe exhibits on congenital malformations and a dissection of the nervous and circulatory systems of the body too.
The Grand Palace be able to be observed at the same time as Wat Phra Kaew, and merely as the Temple of the Emerald Buddha, it is usually completely invaded by groups of tourists.
If you desire to see it without being totally stressed, you should be there before 8:30 when it opens. You must wear long pants or a long skirt and have coated shoulders to go inside, and the entrance cost is five hundred baht (15 US Dollars). Bright with sunshine, it is able to be hot because there is not a great shade on the palace area.
At the beginning, Vimanmek Teak Mansion was a royal building construct on the island of Koh Si Chang for King Rama V. After, it was transferred to the Dusit district of Bangkok, where, at present, it is accessible to all. When going to the world's biggest teak structure, you should remain to wear conventionally because of the building's link to the royal family.
In the same way, a much lesser but fascinating teak building is Jim Thompson's home. Jim Thompson was an American businessman who moved to Bangkok in the middle of the twentieth century and almost restored the Thai fabric manufacturing by himself.
Apart from his concern in silk, Mr. Thompson was a keen hobbyist of Asian art, which you be able to observe in his home. In one thousand and ninety-seven, he mystifyingly disappeared without an indication of presence during travel to the Cameron Highlands of Malaysia.
The current day, his name is still there because the Jim Thompson label is globally agreed upon to produce certain of the tallest quality silk manufactures, which are of course also on sale in the museum store.

Galleries
Bangkok has a structured modern art scene that is merited discovering. As well as large places like the Bangkok Centre for Art and Culture and the Museum of Modern Art, Bangkok has dozens of significant galleries to verify too.
Historic districts
The oldest sections of the city propose a lot of possibilities to stroll and explore the ambiance.
Rattanakosin Island is the full name of the historical center of Bangkok. The "island" part be born the truth that this part of the city is enclosed by the Chao Praya River to the west and by the canals to the east. Rattanakosin has inside a lot of Bangkok's most consequential location, not expecting the Grand Palace, Wat Phra Kaew, Wat Pho, and Wat Suthat.
The capital has one of the biggest Chinese neighborhoods on the planet too. Famous in the area like "Yaowarat" for the full name of the principal road that runs through this area, Bangkok's Chinatown does not disappoint anyone searching for anyone thing a bit various.
The principal occupation in Yaowarat is consuming food and shopping. Gold stores are one of the main businesses, but you will find stores vending just about everything conceivable too. Roasted conkers and bird's nest soup are some of the regional favorite nourishments.
In the market you will observe a large choice of fresh fruits and vegetables, candies, tea, and a lot of wide and little edible creatures.
Best Mall in the city
Shopping is one of the main occupations for travelers and citizens of Bangkok. Futuristic shopping centers are a refuge of air-conditioned relaxation in this torrid metropolis, and you'll find them specially wrapped on Saturday and Sunday and holidays.
Siam Paragon
The biggest density of shopping centers is surrounding the Siam Skytrain station, and the largest and most exclusive shopping center of all is Siam Paragon.
On the principal story, you are able to discover the latest trends from Dior, Armani, and Chanel. Afterward, go up to the second story where you be able to buy a fresh Aston Martin, Maserati, or Lamborghini.
If these marks are a little expensive for you, Kinokuniya Books on the third story has the biggest choice of English books in the country.
MBK
In addition, in the Siam section, MBK is another big mall, but with a more worker-like accent. It is one of the excellent places in Bangkok to buy fresh T-shirts and informal clothes, and the place to eat in the fifth story offers a variety of affordable options.
Chatuchak Market
It is said that Chatuchak Weekend Market (also spelled like "Jatujak" or plainly "JJ Market") is the biggest in Asia. Go for it before usual on the weekend morning to defeat the masses and do your shopping earlier it becomes too warm. Chatuchak Market is a large labyrinth of stalls that sell all things from vintage clothing to pet snakes. It is also a wonderful place to make memories before returning house.
Pratunam
Pratunam is mainly a bulk dress market. Small traders from all over Thailand reach here to collect merchandise to fill their stores.
Khao San Road
If for some reason you're dying to obtain your hands-on elephant pants, the Backpackers Mecca of Khao San Road is the location to leave. It's a wonderful place to spot a pair of fake Ray Bans, obtain a dubious tattoo, and clean your troubles with a bucket of Sang Som whiskey, Redbull, and Coca-Cola too.
The capital has very many other locations to buy things and disburse your currencies. Central World, Terminal 21 and Emporium are just some of the other major shopping centres to speak of.
Games and Fitness
Residing in Bangkok be able to be lively and remaining in shape be able to aid you stay sane. Jogging in recreational land is still an easy and cheap option, but many organized activities also exist.
CrossFit
If you like CrossFit, you be able to verify WeFitness, usefully situated throughout Bangkok.
Gymnasiums
Certain of the largest gymnasiums in the Sukhumvit region contain WE Fitness Society, BASE, and Fitness First. If you are looking for a plain gymnasium with cardio equipment and weights to raise upward, there is a lot of it all over Bangkok too.
Yoga
Yoga is a very well-liked fitness occupation that can have certain spiritual advantage too. The list of yoga studios in the city is overly long, but some of the top evaluated in the Sukhumvit section contain Yogatique, Yoga 101, and Iyengar Yoga Bangkok.
Muay Thai
Thai kickboxing, or Muay Thai, is not merely experienced for sports and self-defence, but as a general conditioning program too. It's no confidential that almost all professional boxers sport a set of six-pack abs, so if that's your purpose, then perhaps Muay Thai formation would be the manner to obtain there.
Bangkok is the number one place in the planet for Muay Thai formation, therefore you have a lot of choices here too. Customary Muay Thai gymnasiums are oriented in the direction of making ready earnest pugilist for existing confrontation in the boxing, whereas a fresh generation of gymnasiums is further concentrating on middle-class Thais and strangers who desire to practise for fitness.
Some Muay Thai gymnasiums in the Sukhumvit section that you may desire to verify are RSM, Elite Fight Club, and Bangkok Fight Lab.
Crew sports
If you want to remain in shape and have fresh friends by playing in one group for racket sport, team ballgame or other games, you should consult the lists of Sports & Fitness Meetups in Bangkok.
Eating establishments and cafes
Bangkok is the paradise of food lovers. Away from every one of the astonishing Thai nourishment you'll have in all place, you have entrance to eating establishment depicting all king of cook thinkable too. Japanese and Indian are two national's cooks that are plentiful.
TripAdvisor has expanded to grow to be one of the greatest supplies for eating establishment critique but remember that their grading is in many cases skewed by many tourists who do not have the capacity to make an objective criticism of the regional cook.
In particular when it reaches to Thai eating establishment, I place many confidences in the notes provided on Wongnai, a critique site and an application used mainly by Thais.
It is unlucky that a lot of Thai eating establishment in the tourism have the habit of softening the spices and softening the flavour of their curries since they have the feeling that foreigners can not like the true flavours of the dishes Thai. If you ever have a doubt, make certain to say your waitress that you desire your nourishment "Thai-Thai", which means guenuine Thai style.
Coffee growing has taken a long in Thailand. It is possible that there are still more cafes than 7-Eleven stores. Remember that the representative taste of Thailand when it arrives to iced coffee is intensity and sugary. In many cases, the sugar weight is doubled by mixing sweetened condensed milk with syrup. Therefore, if you want to try to save your waistline, make certain to say the barista that you would like your beverage to be "not sweet" or "less sweet".
Pubs and discotheques
The night, Bangkokians appreciate to enjoy oneself. In Bangkok, you will find the nightlife that interests you. The night is when it is more agreeable to be outdoors too. With the sunshine no longer flowing, beer gardens and rooftop bars become alive.
In Bangkok, things be able to alter rapidly. BK Magazine is an excellent reference on internet to follow the newest tendency.
Rooftop Bars
With all the multi-storey hotels around, don't be surprised that Bangkok has a few admirable rooftop bars. Know that the panorama has a cost. Rooftop bars be inclining to be the costliest locations to take a beverage, and almost all apply a certain kind of clothing rules. That means leaving your thongs and tank top Beer Chang at house.
One of the most affordable rooftop bars is the Octave Rooftop Lounge and Bar, situated at the highest part of the Marriot Hotel at Sukhumvit Soi 57. Signed name alcohol are are half-open during happy hour from 5 pm to 7 pm, which is an appropriate time to come if you desire to grasp the sunset.
If you do not feel dizzy, here are some other rooftop bars that you can investigate.
« Vertigo & Moon Bar »  – One of the best restaurant of the city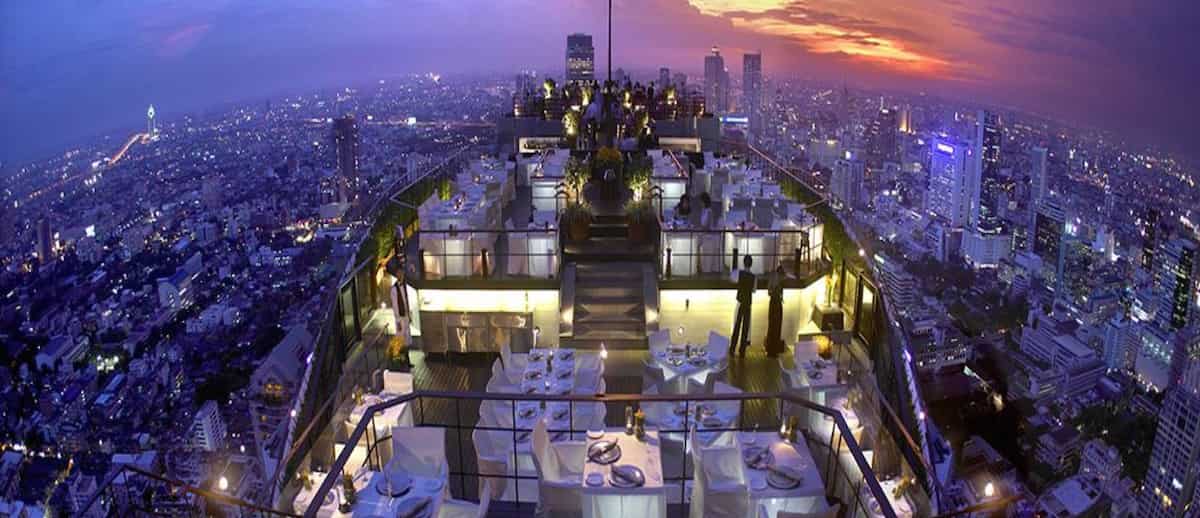 Discotheques
Bangkok has a lot of locations to dance all night. Two of the most famous section for discotheques are Sukhumvit Soi 11 and Royal City Avenue (RCA).
Thai-style discotheques could leave strangers a bit confused, since the concept is to come in a group and stay around a table while sipping alcohol.
Discotheques that are more oriented towards strangers be inclined to own a more open conception that urges dancing and mixing.
Certain of the most popular discotheques to verify are:
Bars and beer gardens
Certain of us have headaches when one speaks about electronic dance song and blinking laser illuminations. For people whose concept of ​​an appropriate time is to simply relax with an excellent business while taking pleasure with some beers, don't know trouble, Bangkok has you coated. The occasional waterholes are literally in all places of the city centre.
Red Light Quarters
Bangkok is very famous for its fully-grown amusement places that it would be stupid to act as if they are not exist. Simultaneously, the scene is mainly focused on 3 little places and bet able to be comfortably avoided.
Patpong, Nana Plaza and Soi Cowboy are the 3 little areas that characteristic pubs with go-go dancers. It is possible to walk safely in one of these places and even to jump into one of the pubs to have a beer and see what everyone is saying without getting into difficult. Pay for every one of round of beverages like you go – in preference to running on a tablet – if you desire to stay away from surprising.
Concerts
A lot of large names in music played in the capital. Certain of the performances this years have incorporated shows by artists like Guns'n'Roses, Britney Spears, Ariana Grande, and Ed Sheeran.
Additional who have performed in the Big Mango in the past contain Red Hot Chili Peppers, Coldplay, Madonna, and Maroon 5. For the people on the verge of rock, you be able to observe a list of imminent performances here.
Massage and Spas
Thai massage is an old recovery art that was improved at the medical school connected to Wat Pho, from where it expands all through the country. It is possible to attend a formation course at the temple's massage school, or plainly to go to get the most traditional Thai massage handling
However, it is not necessary to go to the temple to relax. There are thousands of locations in the city to receive an authentic Thai massage.
Prices begin from approximately two hundred baht (six US Dollars) for a Thai massage or foot massage in a single store and be able to rise to five thousand baht (more than one hundred and fifty US Dollars) for four-five-hour packages in the upmarket spas that contain a range of handling like a body scrub, body wrap, aromatherapy lubricant massage, purifying face and herbal water vapour.
People who have a job in front of a computer all day be able to accumulate many pressures in the neck, shoulder and spine. Easy access to an extremely reasonable massage handling is one of the most excellent things to do in Thailand.
It's no secret, however, that all massage parlours in Bangkok are growing more and more. If you desire a skilled professional massage without doing any fun business, avoid the shops where the female staff is sitting in front, weared in a dubious costume and forcefully aiming anyone who passes.
Often, paying a little more shows that the establishment is of better quality, though the quality of a massage basically be determined on the personal therapist.
Thanks to the large expatriate Japanese community in Bangkok, there is a market for Japanese-style onsen bathrooms (and contrary Japan, they do not have fool proof anti-tattoo laws) too. The most complete of them is Yunomori Onsen, with 6 various bathrooms, add a sauna and a water vapour room. They incorporate a Soda spa with carbon dioxide enriched water and individual teak bathtubs.
If you desire to attempt something a little unusual, you be able to visit the Bangkok Float Center. There, you be able to close the sensory input and knowledge the entire coolness of floating weightlessness in an Epsom salt solution.
Excursions near Bangkok for the weekend
Bangkok is properly located for visiting a lot of other arousing interest locations in the country. The Saturday and Sunday are naturally the best time to escape some days and especially long weekends. In many cases, this guides to a big crowd and extensive queues at airports, bus stops, piers to get to the islands, and so on. If you manage to exchange your holiday others work, you will stay away from the most severe crowds.
Here are some of the most well-liked trips you be able to get to the city without taking the plane:
Ayutthaya – ancient capital with many ruins of the ancient temple. It was the biggest and wealthiest city in Southeast Asia in the sixteenth century.
Kanchanaburi – Sleeping waterfront in the city with many mountains in Myanmar region. Access to hiking, waterfalls and a lot of exciting and unusual experience.
Hua Hin – Long white sand beaches, with an excellent choice of eating establishments in town. Arrival by railway to take pleasure in the view of the rural area.
Pattaya – Seacoast town. One of the most severe beaches in Thailand, but that's not the reason people move towards here.
Kao Yai National Park – Thailand's biggest national recreational land. Fauna and flora are abundant here, not expecting a herd of untamed elephants.
Koh Samet – The nearest island to Bangkok. The most excellent option for a three-day weekend because you be able to go away from Bangkok and set foot on the beach the identical morning.
Koh Chang – Majestic mountain island near the Cambodian frontier. Koh Chang has splendid beaches but grab slightly more time to get there. It is better to register for a least possible trip of 4 days.
You be able to fly to Thailand's largest cities in less than 2 hours from Bangkok too. Certain of the most well-liked travels are to Chiang Mai, Phuket, Krabi and Koh Samui. You be able to find inexpensive plane trip on cheap transporter as Air Asia, Thai Lion Air, Thai Smile, and Nok. If you go to Koh Samui, the price will be a little further up since Bangkok Airways has the Samui airport and has the monopoly of the road.
Bangkok is one of the largest local operating aircraft centres with straight global plane trips to destinations like Bali, Singapore, Kuala Lumpur, Yangon, Siem Reap, Hanoi and Ho Chi Minh City too.
Recall that Bangkok has 2 main airports, so be sure to move in the direction of the right one. DMK is the oldest airport, and it leads almost domestic flights as well as global plane trips by budget transporter. BKK is the most recent airport, and it leads most of the international flights as well as not foreign plane trips on Thai Airways, Thai Smile and Bangkok Airways.
What's the weather like in Bangkok?
When you move to Bangkok, you must prepare for the hot season pretty much all year round.
A big part of Thailand has a not warm season from December to February, nevertheless in the capital, the consequence is slightly least possible, with conditions in the "not warm" season in many cases reaching even more than 30°C (86+ Fahrenheit).
Throughout the "warm" that occurs throughout the months of March, April and May, conditions be able to reach over forty degrees Celsius (104 ° Fahrenheit)
There is a monsoon from June to October, where the climatic conditions are usually hot and moist with infrequent showers. It does not rain all the time, but when the raindrops fall, it falls hard.
The Bangkok drainage system is struggling to cope with the rainy season, and provisional floods are not unusual. Some streets are greater amount susceptible to flooding than others, therefore it perhaps be a clever idea to enquire certain citizens what the last floods were on a street before relocating to a fresh flat.
In spite of the warm condition climatic, Bangkokians appreciate to be beautiful and "dress properly". You will see many men having full-length arms button-down shirts, long pants and dress footwear, which is esteemed a professional style.
If they are employees in an office, they could adopt a more casual and chic style, like a polo shirt, jeans and pretty trainers. Every one of Thai university students coat school work clothes throughout the day, and they habitually appreciate to wear any one thing good earlier exit at night.
If you desire to obtain additional esteem from the Thai you meet, you should avoid the obvious beach clothes in the city. Later some time, you will begin to choose foreign residents among the travellers just by looking at their clothes.
One thing to remember, nevertheless, is that air conditioning in the interior if structure can be quite cold. If you are delicate to wintry conditions, you might desire to wear a coat or long-sleeved pullover in spite of the great warmth outdoors.
What is the Bangkok Expat scene?
Bangkok attracts so many expatriates from a lot of divers' states that it is difficult to identify an expatriate scene.
Many expatriates are youthful men and women who move towards to work like teachers of English in schools of Thailand. There are many retired persons from the United States and Europe too. Employees of Japanese companies and their spouses are another important group, especially in the medium and upper Sukhumvit regions. There are a lot of Indians and Arabs who have settled in the lower Sukhumvit too. In the end, you have increasing number of digital specialists, interested by the tropical attraction of this Asian large city and every time seeking to take pleasure in life
Lifetime in the city be able to be all you do. The only thing that each one would think same on is that Bangkok is never tedious.
SIAM Relocation - Best price moving company in Thailand !
Due to our attractive pricing, many customers trust our services and we thanks them. Stop to overpay the services and save money with our tailored package matching will all type of removals, from small volume to full house, let us find the best and cost-effective option.
Communication is important, which is why we strive to discuss in the most suitable way for you!