Malaysia is more than just a picture on a postcard. It is surrounded by stunning beaches and has a surprising amount of cultural diversity. One of the Asian Tigers, the country is a developed, thriving, and affluent nation.
Malaysia has a lot to offer expats searching for new career opportunities, as well as students and retirees, as a partner of giants like Japan and the United States.
DocShipper info : The Docshipper group includes the worldwide relocation company Siam Relocation. With its extensive network, Siam Relocation can guarantee a quick and secure international move. We provide a variety of packages that should appeal to everyone : Eco, Medium and premium. Contact us if you want to receive a free quote in less than 24 hours.
What is the quality of life in Malaysia today ?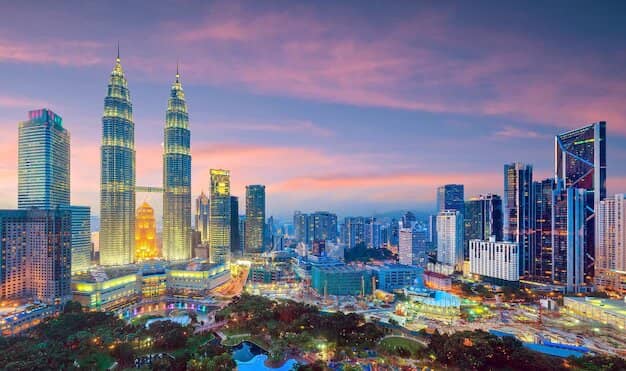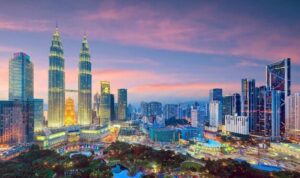 Because of Malaysia's higher level of life than France, many decide to move to Malaysia. The nation does in fact provide a very high degree of comfort at a very modest price of living. Therefore, it is possible to live better and spend less money in Malaysia than in France. This is true for every expense, except for food, which is much better (and much more costly) in France. Nevertheless, expats moan about it too.
Your quality of life will increase if you live in Malaysia. As an example, in France, the middle class includes individuals. Especially considering that they are freelancers, because of their low wages, it would be challenging for them to survive at the end of the month if they continued to reside in France.
There, our income allows us to live very comfortably. Since our other expenditures are so low relative to the French market, many expats rent their apartments for prices that defy any competition. To be honest, per month, they spend between €1200 and €1500 for two in all. Enough to imply that maintaining their current way of life in France would be challenging.
What is the price of an apartment in Malaysia ?
Let's start with examining the most significant outlay for migrating to Malaysia (and more particularly, Kuala Lumpur): housing.
You may get really high-quality flats in KL. You won't have too much trouble obtaining housing because the supply is likewise considerably more than the demand. Because of the low cost of rent, you may live in well-regarded apartments for less than a two-room flat in Paris.
In Malaysia, condominiums are the favored housing choice for foreigners. These buildings are very new and highly contemporary, with lots of facilities. For example, for a lot of expats in their residence, they can enjoy two swimming pools (one on the rooftop and a large outdoor one), a gym, and a free shuttle to go to KLCC. With also rooms at their disposal such as a billiard room and rooms that they can rent when they receive people. The residence is almost new, in 2017, the foundation of their structure was broken. This kind of housing is highly expensive in Malaysia, but because of the value of our currency, the price in euros is actually rather reasonable.
So, let's use the case of a couple that pays €650 per month, charges included, to rent an 80 m2 apartment with two bedrooms and two baths for 8 months. Of course, it also needs to include the cost of things like internet, gas, electricity, and water. These expenses cost between 60 and 70 euros every month. Since they operate out of their flat, energy is what they spend the most money on.
DocShipper info : Benefit from the experience and network of Siam Relocation for your move to Malaysia. We intervene, and our experts accompany you throughout the procedures of your move. Do not hesitate to contact us for more information.
How much does food cost in Malaysia ?
Often the second item of expenditure is food. Well, yes, you have to eat well every day. So, the benefit of such is that the meal in the street or in the small local restaurants is really not expensive. In addition, for those living just outside Kampung Baru, the typical Malay district of Kuala Lumpur. So there are literally dozens of excellent tiny eateries there that are very affordable. In these places, it is possible to eat for 2-3 € per person, sometimes less during lunch. It goes without saying that shopping costs more than eating out.
Eat outside
Some communities, however, are not fortunate enough to gain from these little eateries. Even if it is possible to discover some, there are a lot of foreign restaurants or retail centers in KLCC, for instance. Despite being less expensive than in France, these eateries are nevertheless more expensive than the average way of life. It will thus cost at least 6 euros per person, depending on the restaurant's reputation. However, there are also several "mamak" eateries in the area managed by Indian Malaysians that provide delicious food (a blend of Indian and Malaysian cuisine) for a few euros.
Go to the supermarket shopping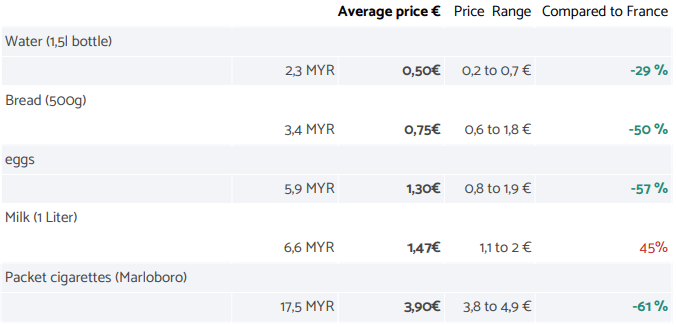 We can comfort you, though: foreigners need to go shopping. Because many of them enjoyed cooking modest things that made them nostalgic for their own kitchens at home. Supermarkets are not prohibitively costly, but imported goods are. Thus, it is best to learn to cook with local ingredients, or almost, if they do not want to have a monthly grocery cost that is more than their rent. It goes without saying that foods like cheese, cream, butter, whiskey, and other delicacies are frequently costly and hence remain specialties.
Budget for each race: about €170 each month
Other costs of living in Malaysia: Standard of living
Transportation, leisure activities, and other costs are included.
Transportation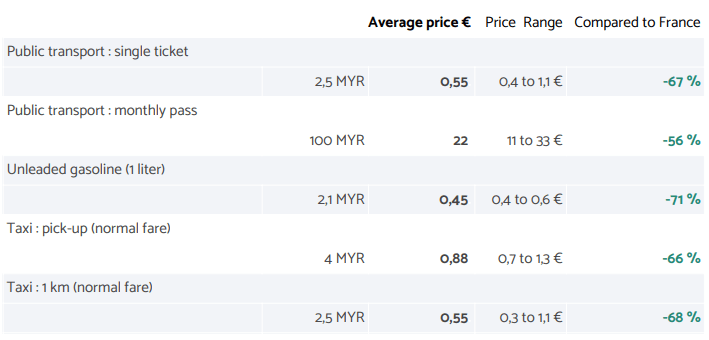 Regarding transportation. Many do not have a car, but be aware that the cost of fuel is absurd (about 20c/l). Many of them make all their trips by grab/taxi. It can cost between 5 and 20 RM per trip, so generally less than €5. For example, for those who take a taxi at least 4 times a week, it is possible to estimate their taxi expenses at around €30 per month. If you travel around a lot, sometimes even more.
Hobbies and activities

Given how much they work, some expatriate in Malaysia don't have a lot of free time. Let's suppose they occasionally go out to dine or drink with friends, that they occasionally play golf or attend a yoga class, etc. They occasionally go to the movies. Since nothing is actually pricey with French wealth, they often do not consider the expense. Rarely more than €5, €10 here, and €5.
Services
Due to the luxury of being able to order house cleaning services, expats, let's add a section to the services level. In reality, the majority of expats do it; those who have kids may even hire "maids." It may cost RM60 every 15 days, or €25 each month, for the cleaning service. In other words, since they can afford it, they do not deny themselves.
A summary of living standards and the budget for living in Malaysia
In case you missed it, this is what they can spend each month to live in Malaysia:
Total costs for lodging are €720.
€250 for food (race + restaurant).
Travel, services, and recreation cost between €100 and €200.
They don't deprive themselves and make a total monthly income of around €1200.
I'm hoping that this post may assist you in estimating your costs if you decide to move to Malaysia. This budget should not be taken literally, but it may be more significant if you frequent international restaurants, go out to dinner frequently, or travel frequently.
DocShipper Advice : We would be more than happy to assist you with moving to or from Malaysia. Contact us without delay! You can count on our relocation specialists to assist you with all of your needs.
FAQ | Moving to Malaysia: the cost of living per month
What salary do you need to live comfortably in Malaysia?
Consequently, if your salary is less than RM2,500 per month, you would need to live on a relatively tight budget (and many people here subsist on considerably less). Anything above RM5,000 would allow you to live in relative comfort in KL. RM2,500 to RM4,000 will go you farther.
Is Malaysia cheap or expensive?
Is that it is slightly more expensive than other South East Asian nations like Laos, Cambodia, and Vietnam. Traveling in Malaysia is often far less expensive than traveling in places like Australia, Canada, and the majority of the European Union.
Can I live in Malaysia for a year?
Most foreigners traveling to Malaysia, whether on business or for pleasure, must get a visa; however, citizens of select nations are exempt from this need. A residency visa or work permit must be obtained in advance for anybody planning to live and work in Malaysia for a prolonged term.
What is the minimum monthly salary in Malaysia ?
From May 1, 2022, Malaysia will raise its national minimum wage by 25%, from 1,200 ringgit (US$273) to 1,500 ringgit (US$341). The government is required to reevaluate the minimum wage every two years under the National Wage Consultative Council Act of 2011.
Is Malaysia a good country to migrate to?
Malaysia is a kind, welcoming country with a good level of life and a relatively low crime rate. The benefits of living in Malaysia outweigh the drawbacks, without a doubt. If you're considering relocating here, you should begin your preparations. It will be the most thrilling adventure, I can tell you.
DocShipper info: Do you like our article today? For your business interest, you may like the following useful articles :
DocShipper Advise : We help you with the entire sourcing process so don't hesitate to contact us if you have any questions!
SIAM Relocation - Best price moving company in Thailand !
Due to our attractive pricing, many customers trust our services and we thanks them. Stop to overpay the services and save money with our tailored package matching will all type of removals, from small volume to full house, let us find the best and cost-effective option.
Communication is important, which is why we strive to discuss in the most suitable way for you!