As an expert in moving and relocation, we know how administrative tasks and packing goods could be time-consuming, especially when there is a whole company relocating… COVID-19 pandemic is one of the reasons companies need to relocate faster than ever, whether to reduce or increase their working areas. That's why we have written for you the 12 tips for organizing a successful corporate relocation! By taking enough advance notice, and by following all these steps, relocating could be easier than you thought.
Tip n°1 : Determine the reasons for moving
The reasons a company needs to relocate have to be clearly defined because a whole company and its employees cannot move on a whim. Employees might better understand this decision if it has been explained precisely and the direction has already targeted places.
Tip n°2 : Choose the new working spaces before moving
Choosing a new location is crucial before announcing the relocation of a company. As said before, employees will better apprehend the moving if they know where they are going to work, it will help them to project and even to identify their future route to work.
Another piece of advice we have for companies is to write lists. In fact, make a list of everything you need for your relocation: furniture, space required, number of desks, the budget…
You can rely on agencies, call your network, and use websites to find the right place for your relocation. Then, select 3 or 4 addresses among the workspaces you find and visit them to help you decide.
Tip n°3 : Fix the date of moving
To help you create a timeline and be organized, you'll have to set the date (or at least a period) the company will move. For the move to don't impact the business activity, it's better to choose a weekend, and if it's not possible, to set up a teleworking week, for employees to not be disturbed, and for the moving company to work faster. Don't hesitate to call the City Hall to be aware of every event which could slow down the traffic.
We also recommend not letting your old office the day you're moving into the new address is supposed to be finished, allow a few days between to ensure you're not going to be in an uncomfortable situation.
Tip n°4 : Determine a retro-planning
To be sure you'll forget nothing, retro-planning is your best friend!
We recommend starting your retro-planning from the company's moving date and going back in time, listing the different key steps.
We created an example for you :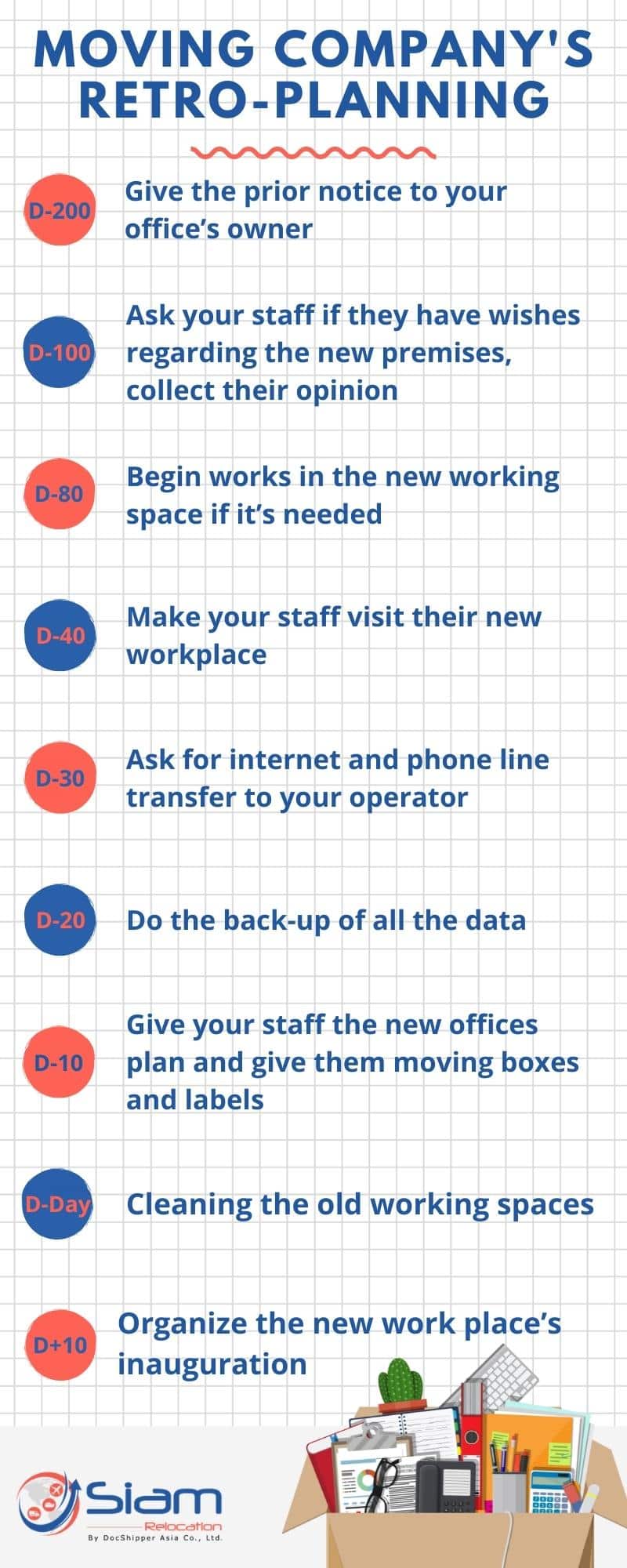 Tip n°5 : Inform staff about the relocation
It's important for employees to be aware of the reason for relocation, and all the changes it will lead to. They need to have time to be prepared and organized before moving. In fact, relocation could be a choc for people, especially if some daily habits are changed like the route to their workplace.
We recommend choosing a "relocation manager" by department or working team during the moving period, it will help your staff to be reassured and to ask their question. You should also involve your staff in this relocation by asking their opinion about it.
SIAM Alert: If you are moving to the same geographic area of your actual office, you don't have to ask your staff for their agreement, nor if there is a mobility clause written in their contract. The dismissal is allowed in this case if an employee refuses to be relocated. But if there is no clause about relocation, you need your staff agreement to make him/her move, or he/she'll benefit from the economical lay-off procedure.
Tip n°6 : Respect the prior notice
One of the first steps when relocating is to notify your office's owner of your departure with a formal letter.
You also have to know the period of prior notice (3,6 or more months) to know how to organize before moving.
When you give the prior notice, there is no return possible, be sure your relocation is acted upon.
Tip n°7 : Change furniture
The company relocation is a good occasion to change workspaces furniture and decoration. The best is to buy ergonomics furniture for employees' well-being at work, it could improve their productivity.
We also recommend relying on a designer to help you optimize the new workspace and choose the best decoration and furniture.
SIAM info: If you need to stock your furniture during your move, don't hesitate to rely on us, we'll be happy to help you with this additional service. For further information or a free quote, please feel free to ask our experts!
Tip n°8 : Compare moving companies
We recommend looking for a moving company in advance, so you can take your time to choose the best one. In fact, the cheapest will rarely be the best, you have to carefully pay attention to offers, including insurance and services the company provides.
You can move by yourself if you are a less than twenty people company, in fact, renting the adapted vehicles will be less expensive, but if your workforce is higher, we recommend relying on a moving company.
SIAM Tip: Siam relocation due its place of n°1 Moving Company in Thailand to its wide range of services. In fact, we value the importance of satisfying our clients, that's why we provide different types of moving services according to your needs and budget, like transport, packing, storage, insurance… To have further information, please contact us!
Tip n°9 : Share the new company's address
This step is crucial when you are moving. You'll have to communicate your new company's address to everyone, everywhere.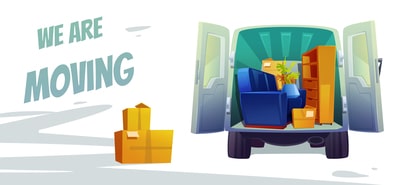 Here is the list to whom you have to give your address :
Your customers, your partners, your service providers, and your prospect to avoid any productivity issue
Every service like phone operator, energy provider, social security, social insurance contribution, tax service… make a list to be sure to forget nothing
Ask the post office to change your address and make your mail follow it for one or two years.
Update your business card and any official documents or brochures…
Don't forget all the virtual! Update your website, e-mail signature, directories…
Tip n°10 : Sorting out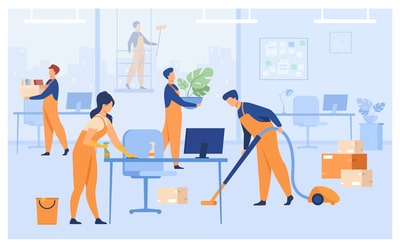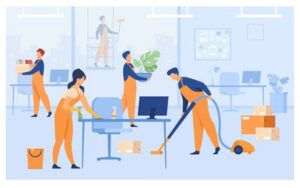 Moving is an opportunity to sort out and throw every useless document or object that has been accumulated by the staff during the years. We recommend keeping a copy of the documents to ensure they will not have an impact on the company's activity.
For the stuff you are keeping, don't forget to label it, it will help you to be organized during the move.
If there is some furniture you don't want to keep anymore, don't throw it, ask your employees if they want it, sell it or donate it to an association.
Tip n°11: Cleaning the old workspaces
When leaving your old workspace, you have to let it as clean as possible. You can do the cleaning in two parts, the first time, one week before moving, and the last when you completely left the premises. We recommend relying on a professional cleaning company to be sure it will be done correctly.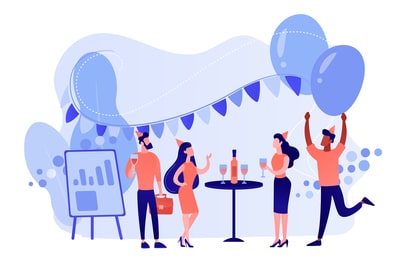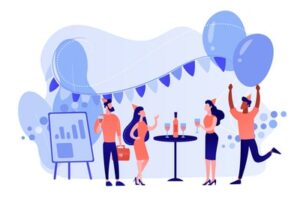 Tip n°12 : Organize an inauguration
The best way to celebrate the move and all the changes it has generated is to organize an inauguration (like a party or a team building day) for all your staff.
To show how your company is evolving and prosperous, a good idea could be to invite your partners and customers!
SIAM Advice: In some cases, there are partners or even customers that you never met. To make an inauguration could be a good way to meet them all at the same time, and thank them for their reliability and loyalty!
FAQ | 12 Tips for Organizing a Successful Corporate Relocation
What are the advantages of relocating a company ?
Increase the productivity
Improve well-being
A new departure for the company (new image, second wind…)
More space or optimization of space
What are the disadvantages ?
Administrative tasks
Social impact (loss of motivation and productivity…)
Broken goods and furniture
Loss of profit during the moving period
What could be the reason to relocate a company ?
The reason could be :

Reduce costs by moving to a smallest place
Move to a largest place
Improve work conditions
Increase productivity and flexibility
Relocate near partners and suppliers
Why companies want to relocate in a foreign country ?
It's a common decision for companies to relocate in other countries, but the reasons could be different. In fact, it could be to save money (in the major part of time), by being closer to suppliers and partners, or even for environmental reason, to decrease carbon footprint. It could also be regarding regulations, which are different depending on country. Finally, relocate is a good way to leave an overloaded market to another with less competition.
DocShipper info: Do you like our article today? For your business interest, you may like the following useful articles :
DocShipper Advise : We help you with the entire sourcing process so don't hesitate to contact us if you have any questions!
SIAM Relocation - Best price moving company in Thailand !
Due to our attractive pricing, many customers trust our services and we thanks them. Stop to overpay the services and save money with our tailored package matching will all type of removals, from small volume to full house, let us find the best and cost-effective option.
Communication is important, which is why we strive to discuss in the most suitable way for you!