Preparing for expatriation in Thailand is a complicated task. This article will provide you with all the information you need to set up this project. You will be able to find out about the high-paying jobs in Thailand and information on working conditions, as well as visa requirements for working in Asia. We'll also give you all the little tips you need to prepare for your move to Thailand, including costs and quality of life for French ex-pats. Thanks to this information, you will be able to succeed in your expatriation in Thailand and fully enjoy your new life.
What are the best-paid jobs in Thailand ?
Are you a business manager, HR manager, developer, programmer, teacher, or real estate agent ? Good news ! You can expect an excellent salary if you work in Thailand. Indeed, these jobs are very well paid for expatriates, who often receive a higher wage than natives. So you can fully enjoy your experience in Thailand and live a comfortable life !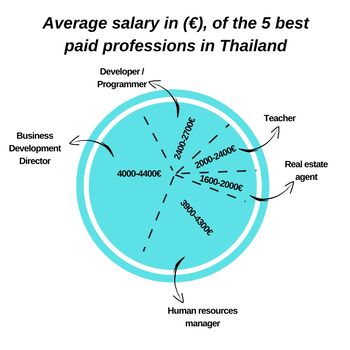 Job N°1 : Business Development Director
If you are a business development manager in Thailand, you will enjoy a very attractive salary.
Indeed, the average salary is estimated at 155,000 THB per month, which amounts to €4333.18/month. This makes it one of the best-paid jobs in this country, which will allow you to leave with peace of mind.
Job N°
2 : Human resources manager
Are you looking for a new adventure? Thailand is a highly sought-after country for human resource management positions, and the average monthly salary is 152,000 THB, or, €4261.56. Such an opportunity is worth considering if you are looking for a new challenge !
Job N°3 : Developer / Programmer
If you are a developer or a programmer, Thailand is a great place to find a job. Salaries are certainly lower than in some other countries, but are still very interesting, with averages of 96,600 THB, or around €2,700.55 per month.
Job N°4 : Teacher
Teachers are in great demand all over the world, and Thailand is no exception. Language teachers, and in particular English teachers, are particularly in order. To apply for a position in this sector, you will need to provide proof of a certificate attesting to your level of English (TOEIC or IELTS) and, although it is not compulsory, it is preferable to pass the TEFL (Test of English as a Foreign Language) from schools accredited by the Thai Ministry, such as the Text-and-Talk Academy. The average salary in Thailand for a teacher in the private sector is 85,100 THB, or about €2387.01 per month. It is important to note that, as with any other profession, salary variations depend on qualification and experience.
Job N°5 : Real estate agent
Career opportunities in real estate are on the rise, which is linked to the growth of the market. Real estate agents in Thailand can expect an average salary of 70.512 THB, or around €1977.82 per month.
Working conditions in Thailand
However, before making the biggest decision of your life, it is important to find out about working conditions in Thailand, as there are many differences between France and Thailand regarding work.
If you want to go abroad and work in Thailand, you must in particular forget the 35 hours per week, because the legal duration of working time is 48 hours per week (8 hours per day over 6 days).
Employees are also entitled to 13 days of national leave per year and a minimum of 6 days of vacation after a consecutive year of work.
There is no legal retirement age in Thailand, except for civil servants whose age is 60.
Preparing for expatriation
Wherever you decide to go, the first step is to get the information you need to prepare. Learn about the destination, plan your itinerary and budget, and seek out tips and recommendations from other travelers. Once you have done this research, you can prepare to live your adventure ! Prepare your backpack, choose comfortable clothes adapted to your destination, and don't forget your essentials. Also, prepare for uncertainty and the unexpected, knowing that they are an integral part of the journey. Once all the preparations have been made, you will be ready for unforgettable experiences and memories!
VISA, everything you need to know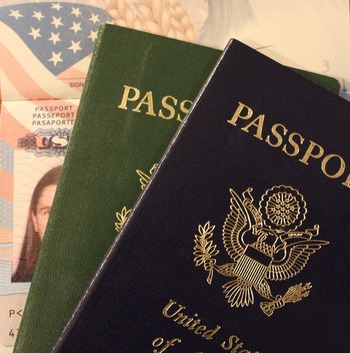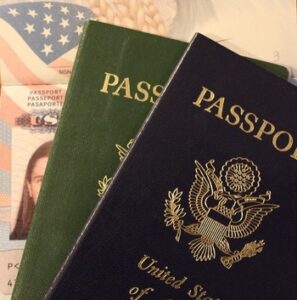 To live and work in Thailand, all foreigners must obtain a non-immigrant B visa and a work permit. It is essential to be well-informed about the procedures to follow before leaving for this beautiful country. Did we write an article on the subject : The different types of visas for Thailand ?
However, finding a job abroad is not an easy task. Fortunately, several websites and social networks offer hundreds of job offers. Among the most popular are:
Jobsdb : https://th.jobsdb.com/th/job-location/bangkok/1
Monster.com : https://www.monster.com/
Go Abroad : https://www.goabroad.com/
LinkedIn : https://fr.linkedin.com/
Each of these sites specializes in the recruitment and will give you the opportunity to find your dream job, wherever you are.
Preparing for your move
DocShipper and other specialized companies offer quality transport services for moving from one country to another.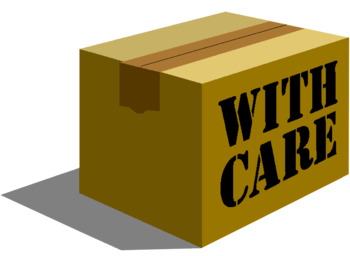 These companies take care of the planning and associated administrative procedures, as well as the packing and transport of your vehicle, furniture, and animals. They also offer special insurance and additional services to facilitate the move. Personalized solutions are also offered so that you can carry out your move safely and efficiently.
Living in Thailand
Living in Thailand could be a real dream come true ! Year-round tropical warmth, heavenly beaches, breathtaking scenery, and more ! The quality of life in Thailand is excellent, and you will have the opportunity to try new things, taste unique flavors and enjoy the country's incredible flora and fauna. So take your freedom and move to Thailand!
Cost of living in Thailand
Thailand is a very affordable destination for those looking to live abroad.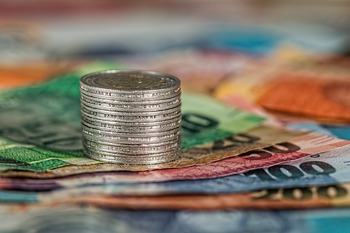 With a cost of living that is about 45% cheaper than in France, with the currency being the Baht (THB), meals at only €10/day, and rents about 51% cheaper than in France, It's easy to see why more and more people are choosing to live in Thailand. Also, transportation is affordable, with buses, taxis, and motorbike taxis being reasonably priced. This makes life in Thailand very accessible for anyone who wants to move abroad.
Our tips for a successful expatriation
Here are our tips for a successful expatriation:
For those who decide to live in Thailand, qualified people are available to help them settle. The Franco-Thai Chamber of Commerce in Bangkok is an excellent place to find professional contacts before leaving. Additionally, for additional information and advice, Thailand-related websites and social media can be consulted. These resources will help you find job opportunities, housing, and more.
A successful move is not done lightly, it is for this reason that we recommend using professional companies like SIAM Relocation which offer quality services and ensure that everything goes smoothly and safely. In addition, these companies often offer desirable rates and can adapt to all budgets.
Conclusion
Thailand offers attractive salaries for several professions, including business development manager, human resources manager, developer/programmer, teacher, and real estate agent. However, the working conditions are more demanding than what can be found in France. There are fewer days off with pay, and working hours can be longer.
There is no legal retirement age, except for civil servants. Despite these differences, working in Thailand can be a great experience, but it's important to consider this information carefully before embarking on it.
Life in Thailand is much cheaper than in France, which gives excellent purchasing power. Moving to this country can be a daunting decision, but with good planning and following the right advice, it is possible to find more than benefits. Once installed, you discover a country with incredible riches and rich culture. It is a unique experience that can bring you great personal satisfaction.
FAQ | Working in Thailand : 5 Jobs for English speakers
Where to live in Thailand for a French person ?
Travel destinations in Thailand are many and varied. Whether you are looking for a beach resort or a vibrant city, each destination has its unique characteristics. Pattaya is known for its seaside resorts, Bangkok for its modernity and authenticity, Hua Hin for its calm and natural landscapes, Koh Samui for its sunny living environment and lively bars, and Puket for its white sand beaches and turquoise lagoons. . Whatever your favorite destination, it is certain that you will find in Thailand a unique and unforgettable experience.
What work to do in Thailand ?
To know that all manual trades are prohibited for foreigners. Being a digital nomad in Thailand is one of the best options, indeed spaces for co-working are present in almost all cities as well as the internet connection is more than adequate, the french embassy, you can find many job offers like editor, waiter, housekeeper … If you have the necessary diplomas, being a teacher in a French high school in Bangkok would be a very good option.
Which city recruits the most French people in Thailand ?
To find a job in Thailand, Bangkok is the city par excellence to explore. The metropolis offers a variety of sectors and is home to many multinationals. Chiang Mai is also a great place to look for a job, as it is home to many French companies and startups. Companies in this city are looking for French talent and expertise. If you are looking for a job related to tourism, Phuket is a place to consider. The hotel and restaurant sector is very widespread in Phuket and it will not take you long to find a job in this field.
Is it easy to find work in Thailand ?
Finding a job in Thailand can be very difficult without proper preparation. The Thai language and culture are very different from that of France, which can be a significant obstacle to overcome. In addition, the salary can be a brake for some companies. Also, Thai companies are often preferred to French companies. For this reason, you will need to stand out and have certain unique skills to be successful in a job interview, such as a near-perfect level of English, specific technical know-how…
DocShipper info: Do you like our article today? For your business interest, you may like the following useful articles :
DocShipper Advise : We help you with the entire sourcing process so don't hesitate to contact us if you have any questions!
SIAM Relocation - Best price moving company in Thailand !
Due to our attractive pricing, many customers trust our services and we thanks them. Stop to overpay the services and save money with our tailored package matching will all type of removals, from small volume to full house, let us find the best and cost-effective option.
Communication is important, which is why we strive to discuss in the most suitable way for you!