You can move for so many reasons: business, family, retirement… But no matter what  makes you relocate from one country to another, you have to be prepared for this huge change in your life. SIAM Relocation is an international moving expert, that's why we write articles to share our experience and give you our tips for your move. Today, we'll be dealing with how to be prepared when moving to the United States.
What you need to know before moving to the United States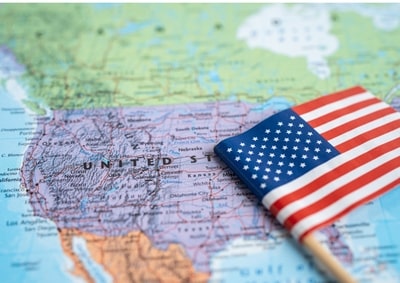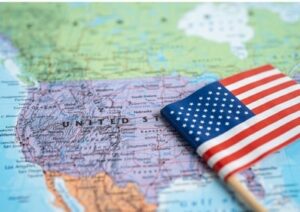 Before you go, you need to know that life in America is very fast-paced, especially if you are planning to live on the East Coast, in cities like New York, Boston and Washington, D.C.
DocShipper Advice: You'll need to be helped during your move to the USA. Siam Relocation is here to handle your furniture move to your new house thanks to our international move service. Contact our experts to get further information and a free quote.
Not as much money as you thought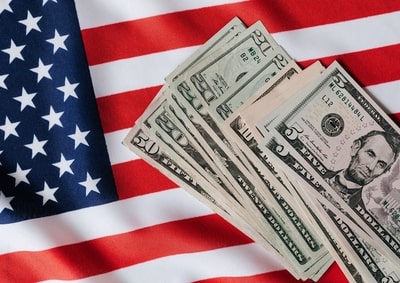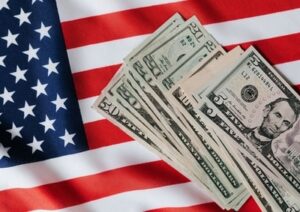 You'll always need money, no matter where you're living, but moving to the USA does not require being rich. Many expatriates arrive in the USA at the end of their studies or to retrain professionally, so they don't have money, but the USA allows them to find a job and make money.
DocShipper Alert: Because we know that moving to the USA could be expensive, we adapt our services to your needs and budget, that's why we are providing different offers such as Eco, Medium, and Premium. Don't hesitate to contact us to get further information and a free quote!
Knowledge of English
Of course, to succeed in a country, you'll have to master the language. It will help you find a job or begin your business in a good way. If you think you have to learn to speak, write and understand English more than you are doing, you can take courses like classes in business English. But even if your English is not perfect, don't worry, you will improve your knowledge by living in the USA more quickly than you could think.
Find a job
Finding a job will be the hardest part of your expatriation because you can't come as a tourist hoping to find a job, it's illegal. If you want to expatriate to the USA legally, you'll have to find a job before leaving your country. To succeed in your goal, you will have to send sometimes a thousand of CV and letters of motivation before receiving positive answers. 
We recommend you don't underestimate your skills and be aware of your market value because they will ask you about your salary claims and you have to take the USA living costs into consideration to answer this crucial question. Sometimes, it could be good to negotiate your salary because even if it seems to be a good opportunity, money is important if you want to live comfortably. You have to remember something: you have to sell your competencies, but not at any price!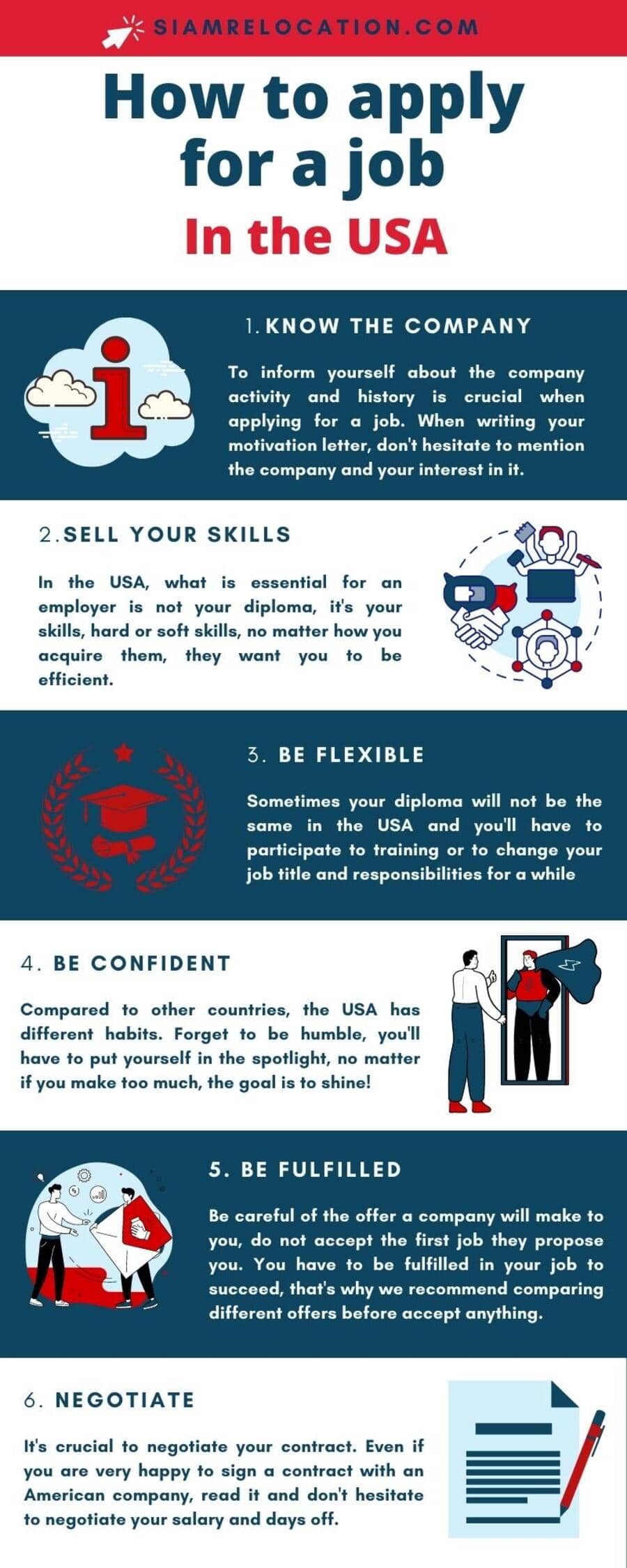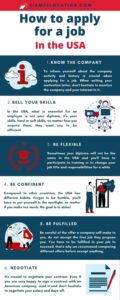 The different types of  U.S. Visas and what they require
In some cases, your employer can handle the Visa appliance for you, but it's still rare, so you'll need our information to see more clearly.
Some of these Visas are hard to obtain or expensive, we recommend relying on an organism that will handle your visa appliance for you like Cenet.
J-1 Visa
This Visa is for trainees and is for people who are meeting these conditions : 
Have a job (or an internship)

Have a university degree

Have a minimum of $2,000 in equity in your bank account

1-year experience in your sector or 5-year experience in another sector
B-1 Visa
This one is a temporary business Visa that can be a solution if you want to start your business in the USA. 
Its validity is for 6 months, renewable up to 10 years

It could be hard to renew because it's not a Visa for people who want to immigrate to the USA. 

The B-1 Visa is perfect if you have to meet your customers in the USA or do a market analysis.

You cannot get paid in the USA with this Visa

It's easy to obtain on the internet and will cost you nearly $200
E-2 Visa
This is the perfect Visa for people who want to create their company in the USA
This Visa is valid for 5 years and infinitely renewable

Relying on a lawyer will be useful to help you consolidate the required documents. 

You must invest a certain amount of money in this new company by renting an office, hiring employees or workers, creating a website… This amount varies depending on the case, but the average investor to obtain the visa is $100,000.

This Visa is only applicable if you come from one of the countries being part of a trade treaty between these countries and the United States. 
H-1B Visa
The Visa H-1B has to be requested by your employer for you.
This Visa is valid for 3 years and renewable for three years. 

You and your employer should rely on a lawyer for Visa application administrative documents.

One of the most expensive Visas.

The number of allocations is limited, the beneficiaries are drawn by lot.
E-B1A Visa
This Visa is reserved for a certain elite like talents, artists, and skills in demand.
It is valid for 3 years and infinitely renewable. 

You have to prove that you have an outstanding talent by sending a portfolio with your work.

You'll have to hire a lawyer for the administrative paperwork.

This one is a particularly expensive visa.
Few people know it, but there is another way to obtain the right to live in the USA, the green card, which you can win at the annual lottery taking place in October once a year.
Change your habits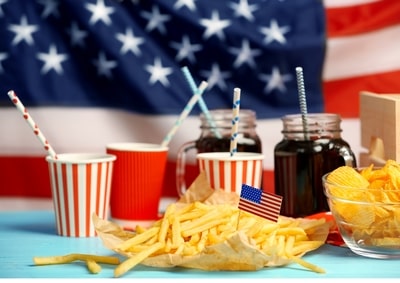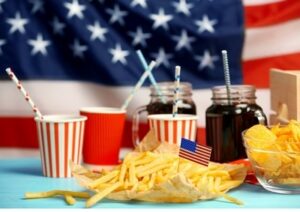 Obviously, the hardest part of this change of life is to find a job, but here is another difficult test to pass, to get out of your comfort zone. 
In fact, your life will undergo many changes due to the difference in culture. Life may seem faster in the USA, mentalities are different, and food and cost of life too, as changes that will be a challenge to get used to. But you will quickly understand that changing your life can be beneficial and that it is a unique opportunity.
Docshipper Tip: Change your habits doesn't mean you have to separate yourself from your precious objects or your four paws' best friend. As a moving specialist, we are here if you need to import your objects or your pet in the USA. Contact us for more information!
Conclusion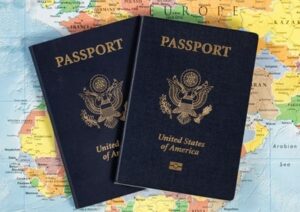 Moving from your country to the USA will be challenging, and you have to be well-prepared for this adventure. If you need to know more about the country, you can read our guide dealing with living in the USA. After being aware of all the changes you'll have to face, you will be ready for your new life!
FAQ | Moving to the United States: things you need to prepare
Do I have to get a job before moving to the US?
Except if you are eligible for the EB1A Visa, you'll have to find a job in the USA before leaving your country.
Which countries are the easiest to move to?
The USA is definitely not the easiest country where you can move to, but here is the list of the easiest :
New Zealand
Spain
Australia
Germany
Paraguay
Can someone give me a green card to live in the USA?
Except if this person is a family member, anybody is able to make someone else enter and live in the USA.
How long will it take to move to the USA definitely?
We cannot give an accurate time for moving to the USA, but most of people will spend 1 year and a half to three years.
DocShipper info: Do you like our article today? For your business interest, you may like the following useful articles :
DocShipper Advise : We help you with the entire sourcing process so don't hesitate to contact us if you have any questions!
SIAM Relocation - Best price moving company in Thailand !
Due to our attractive pricing, many customers trust our services and we thanks them. Stop to overpay the services and save money with our tailored package matching will all type of removals, from small volume to full house, let us find the best and cost-effective option.
Communication is important, which is why we strive to discuss in the most suitable way for you!