Moving is always an important and stressful step in a life. It can be very tiring. Sometimes it happens that when you move your life changes completely. New environment new friends etc … Despite the fact that you have chosen to leave your old home you will surely encounter periods of stress. This may cause you to question the real reasons for the move. A study conducted by psychologists even shows that moving is the third factor of trauma. You will find in this articles some tips to overcome this ordeal.
How to stay positive during an international move?
A change of life is a chance
The moments of doubt that you will go through must not prevent you from thinking of good things. It will be for you the opportunity to invent a new life and to meet new people. In all the events that will accompany the move you will also have some happy and memorable moments. Do not give up if you see that they do not arrive, that will come for sure! Remember your hardships that have allowed you to get there and that you have always found a way to overcome them.
Concentrate on the most optimistic of the scenarios
We are known to be a rather pessimistic people. But this should not affect your morale, you must continue to tell you that better days will come. Do not immediately think about all the problems or worries that you may encounter during your move. The circle will be vicious and may pose a problem in your move. Many potential new surprises are possible but do not think about it right away. Seeing the problems first before the many possibilities of accomplishment will stop you completely. Think about what will be available to you!
Take your time
A move is very tiring for the body and mind. This big change in your life is tiring, do not try to get out of it alone and manage everything. It is a long-term test where you have to know how to manage your efforts. Do not get tired right away and give yourself breaks. Take time for yourself and you will only be more efficient and better in your project.
How to manage the stress during a move?
The day of the move has finally arrived. Your little troop is in the starting blocks since 5 am But the movers are late and panic begins to invade you.
Keep smiling
Organizing a move is not easy. You will surely be overwhelmed at one time or another. What's more normal: even if we have everything planned, everything organized, we are not immune to imponderable events. The move is considered one of the 10 most stressful events in life.
Here are some tips that will help you keep smiling throughout this long day.
Accept the feeling of stress
Start by thinking that there is no stress-free move. Be mentally prepared to accept the imponderables that will surely happen. Do not panic and you will find the solutions that will allow you to bounce back.
Give yourself realistic goals.
There is nothing worse than stating that one is behind his goals, running constantly behind the goal that one has set without hope of reaching it. Be humble and realistic.
Show the example
If you start feeling depressed or angry, you risk contaminating your whole family. It is up to you to set an example by keeping calm regardless of the circumstances.
Eat outside
A break away from the chaos of the move will give you and your family much-needed respite. Take advantage of this moment of tranquility to revive you mentally.
Pay special attention to children.
If you have not been able to trust them to your friends or family, involve them a minimum in the process of moving. Give them simple tasks: serve drinks, pick up empty boxes, sweep …
Sympathize with the movers
Take 10 minutes regularly to chat with the movers. They will be more effective and the day will be more enjoyable than if you behave like a dictator. Have enough cold drinks. Give them a break every two hours.
Take your time
Do not get into a big unpacking the day of arrival in your new home. Take care of the cartons for the bathroom and bedrooms. Everything else can wait a day or two.
Think of sleeping!
Be sure to rest the night before and the night of the move.
How to avoid a painful move?
Top athlete or novice in efforts? The fight will be the same: moving is to be considered as a sports activity if you want to avoid aches and other physical problems. This includes warm-ups and stretches.
Before the move …warm-ups!
Some parts of your body are to be pampered if you do not want to hurt yourself! Start by warming up. Wake your neck, then move on to your arms, move your fingers, wrists, elbows to finish by the shoulders. The back is also a sensitive and fragile area for many people: so be sure to warm it with some exercises. Your legs will also need to be unlocked: ankles, calves, knees, thighs, nothing is to be omitted if you do not want to be bedridden the following days.
During the move
You will have to lift, move and put heavy loads, limit unnecessary efforts, or at least painful ones. Indeed, whatever the effort, always keep your back straight. The weight of the load to wear will vary but the technique remains the same, you will have to keep the cardboard as close to your body as possible, legs firmly anchored in the ground when taking off. Finally, to go from point A to point B with your arms loaded, make sure that the path is clear, unobstructed, and find out in advance where you should put the load.
Take breaks during the move!
Do not hesitate to blow! Muscle fatigue may not be felt immediately, but they still deserve some rest. Do not make the most difficult efforts and prefer to alternate with modest efforts. Take breaks and remember to hydrate yourself.
After the move
The warm-ups will limit the pain but will not be enough to avoid aches. Some stretching will be necessary: ​​again stretch your neck, back, arms, legs. Relax your spine and your muscles to recover. Do not force, take the time to do things quietly. End up relaxing with a hot bath and maybe even a massage?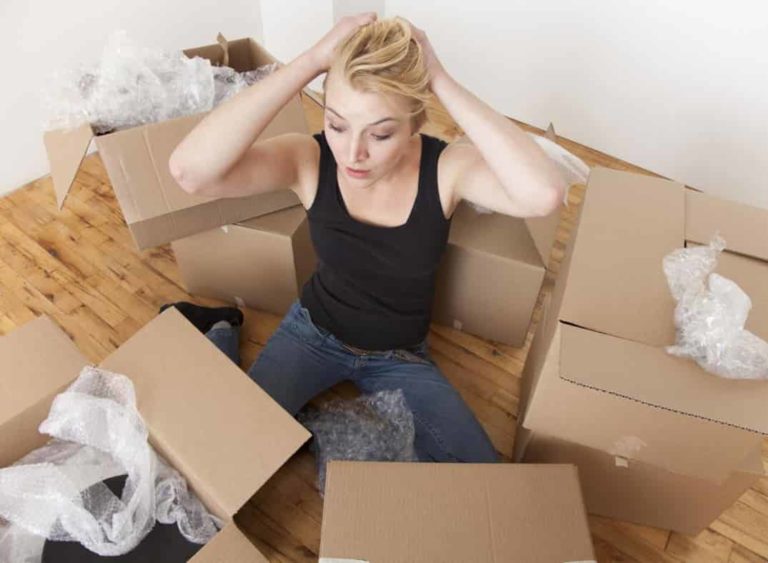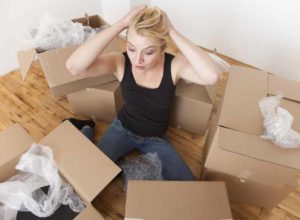 6 tips to cope with the stress of moving
Leaving your daily life, your family, friends, your routine… is not easy! Here are 6 recommendations for making the best of moving to a new place, making it less stressful and more enjoyable.
Moving: step by step
Take enough time to say goodbye to your friends and family. Spending enough time to greet the people you care about before you leave is essential to facilitate the transition from the old to the new.
Spring cleaning before leaving
Let's be honest: arriving is definitely more exciting than leaving. However, a well-organized arrival is only possible through a well-managed leaving phase: it will be necessary to spend a few hours tidying up, cleaning, sorting. In this way, you will leave with a clear conscience, ready to see and buy new stuff.
Avoid procrastination
The watchword is anticipation! The enemy is procrastination! Make a list of things you absolutely need to do and try to evaluate how much time you will need to spend on each action. Stick to this list by trying to stay as close as possible to what you have planned.
Don't lose anything when moving
Build up an accurate list of your belongings: the anxiety of losing some objects or other furniture will be reduced. You will be able to control afterward that none of your belongings is missing. In addition, feel free to keep any valuable personal effects with you.
Look at the future
Don't look back on your past life. Focus on what is coming and be positive. Imagine yourself in your new life, in your new home, let yourself be inspired by your positive thoughts, in a new life that turns out to be fulfilling.
The D-day: relax!
So that everything goes well on the day of your move, a good night's sleep and a good diet are two of the most important aspects. Have a good walk when waking up, or take your time to have a decent breakfast to release yourself from the accumulated anxiety. During the day, have a good time, have fun, make this day pleasant and entertaining. Of course, do not forget to drink a lot of water, and never forget that after the physical effort you will be able to enjoy the comfort of your new home!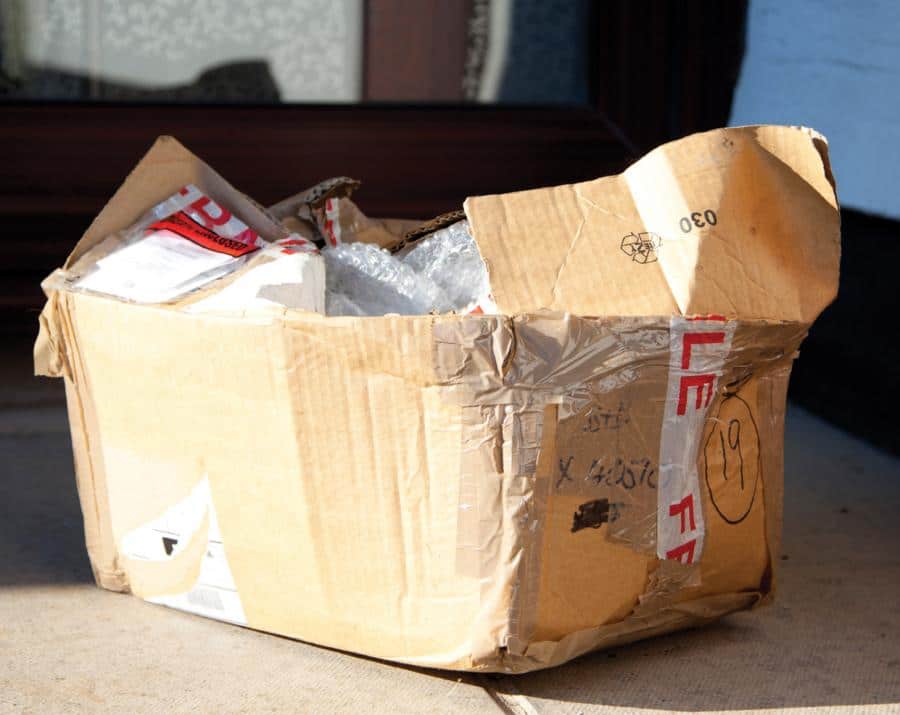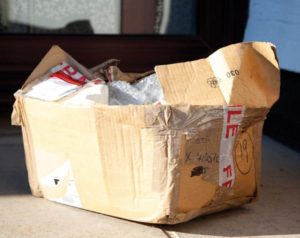 How to avoid damage during your move?
If furniture, objects, appliances are damaged after your move, you may in some cases get compensation. This is not guaranteed, and it depends on the contracts you have taken out.

Common parts of the building, furniture, private property, losses, know that you are not systematically protected.
Choose your mover well
It is possible that your home multi-risk policy covers the damage in case of moving. If this is not the case, when the moving company sends you an estimate, it will offer you various insurance or guarantee formulas.
The basic formula (its subscription is mandatory) makes the mover responsible for the damage caused except in the following two cases:
You have badly packed an object, or your furniture was defective and did not support the move
The moving truck was stolen or had an accident ….
Additional insurance will certainly be offered. So, think before choosing your formula, it is the most suitable to your expectations.
During the move
D-Day is unfortunately not always possible, but the ideal to avoid further disputes would be to check the condition of the furniture as unloading with the team leader.
Check the furniture and objects carefully
You are in a hurry to recover your goods but do not rush the verification step; Once the delivery is completed, remember to check that your furniture is in good condition and that nothing is missing. If you notice damage or loss, mention it on the delivery note. Be specific and detailed because it must prove that the damage is truly related to the move.
Communal areas
If the common parts have been degraded, it is the tenant who is responsible for his lessor, even if it is the movers who caused the damage. Nothing, however, prevents you from having recourse against the mover, because as for the furniture, its responsibility can be presumed.
After the move
Whether on your furniture, on your items or on communal areas, you will have to confirm any reservations made at the time of delivery by sending a complaint to the moving company. The legal period is 10 days and you must send it in the form of registered mail.
How to choose your moving insurance
We often hear the expression prevention is better than cure but it is just as true during a move.
The declaration of value to be made before any move.
The statement of value to be completed at the time of establishing contact with the supplier, this represents an estimate of the value of your property. This procedure is required. Once the document has been signed, the flyer assumes responsibility and compensation for any damage to your transportation property.
Is the mover responsible?
More information on the repayment terms will be explained in the declaration of value. Insurance may not work in your favor if you are considered to be at fault. What may be considered wrong is bad packaging on your part. Some more awful things can happen and be less easy for you to live. The truck or cargo may be stolen or an accident may occur. It is also necessary to be informed about the nature of the damaged products and how they have been harmed. If the object has been damaged before the transport of it cannot be refunded.
Moving damage insurance
There are some home insurance that already protects you in case of a move. Extensions of cover are possible with the insurers that allow you to be covered for this type of problem.
What if I move alone?
In this case you must look at your home multi-risk contract but when you go to a moving company to switch to the "Vehicle Damage" offer.
To know more about regulation, you can check our dedicated page: Moving Insurance
Interested in our services ?
Do you further information ?
Download our brochure (PDF) !
FAQ | Stay positive during an International Moving
How to choose your mover well?
It is possible that your home multi-risk policy covers the damage in case of moving. If this is not the case, when the moving company sends you an estimate, it will offer you various insurance or guarantee formulas.
How to manage the stress during a move?
Here, you will find our advice: Keep smiling/Accept the feeling of stress/Show the example/Eat outside/Sympathize with the movers/Take your time/Think of sleeping!
How to avoid a painful move?
To avoid a painful move, you should: Before the move …warm-ups!/Take breaks during the move!
How to avoid damage during your move?
To avoid damage, you should: Choose your mover well/Check the furniture and objects carefully/Communal areas
DocShipper info: Do you like our article today? For your business interest, you may like the following useful articles :
DocShipper Advise : We help you with the entire sourcing process so don't hesitate to contact us if you have any questions!
SIAM Relocation - Best price moving company in Thailand !
Due to our attractive pricing, many customers trust our services and we thanks them. Stop to overpay the services and save money with our tailored package matching will all type of removals, from small volume to full house, let us find the best and cost-effective option.
Communication is important, which is why we strive to discuss in the most suitable way for you!