To move to Thailand smoothly, SIAM Relocation offers this comprehensive checklist covering visa requirements, housing, transportation, and cultural customs. Whether you're moving for work, retirement, or adventure, this guide will provide you with the essential information for a stress-free transition.
DocShipper Advice: Interested in moving to Thailand and feeling overwhelmed by the process? Our experienced team will accompany you at every step of the way, ensuring a smooth and stress-free transition to  Thailand. Contact us for a free quote in 24h.
1. Apply for a visa
If you're planning to move to Thailand, you'll need to obtain a visa to legally stay for an extended period. Depending on your length of stay and purpose, various types of visas are available. For short stays of under 30 days, a visa exemption may apply. For longer stays, a non-immigrant visa is typically required, which can be obtained through a Thai embassy or consulate in your home country.
Visa requirements vary by type but often include a valid passport, completed application, and supporting documents such as proof of finances and accommodation. Keep in mind that the process can be complex and time-consuming, so starting early is advisable.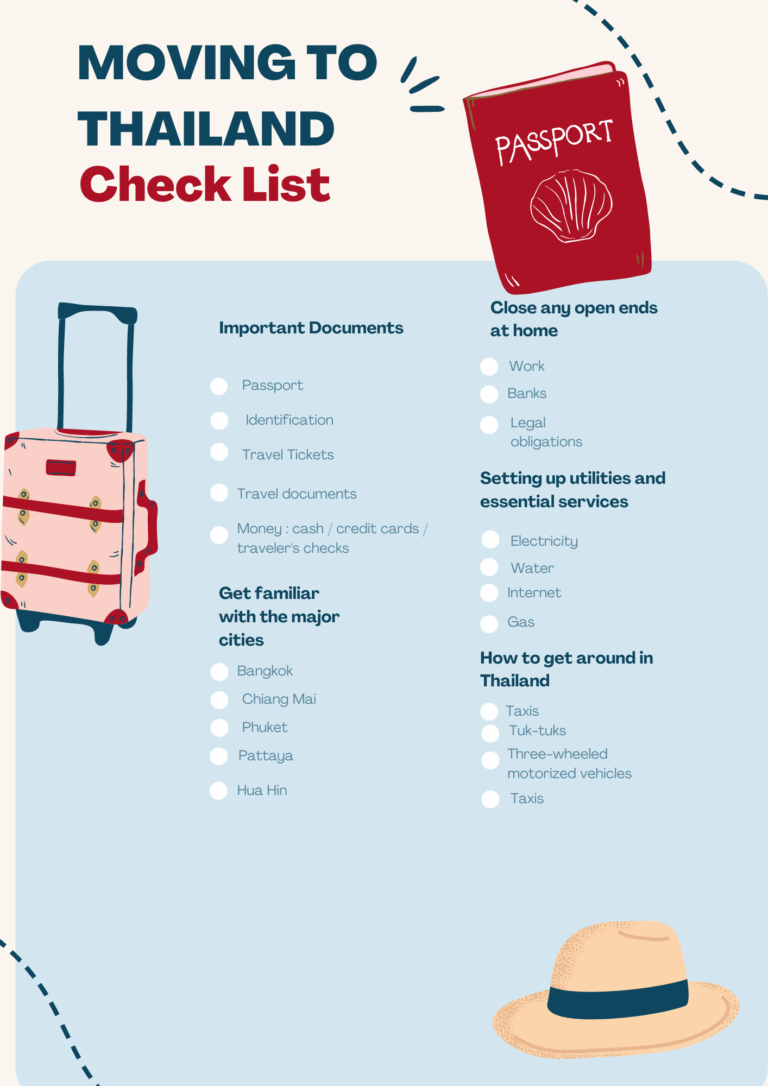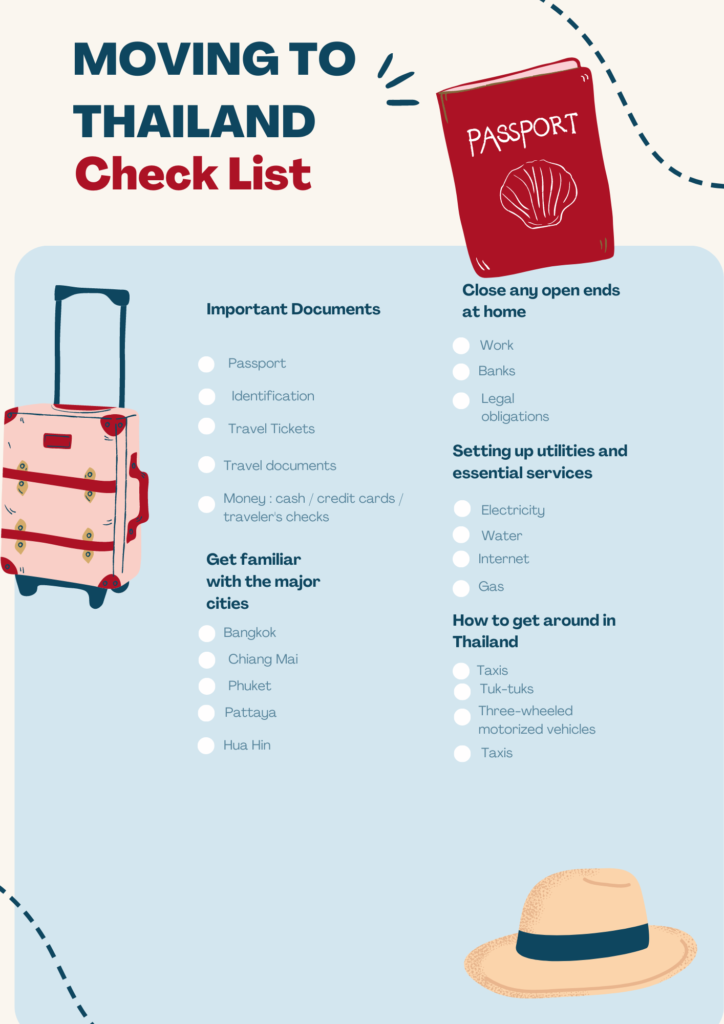 2. Close any open ends at home (work, banks, legal obligations)
Before moving to Thailand, it's important to take care of some important tasks. If you're employed, give your employer plenty of notice and finish up any work projects. Settle any outstanding bills, including rent, utilities, and credit cards, and notify your bank and credit card companies of your move. Take care of any legal obligations, such as renewing your driver's license or passport. Don't forget to forward any important mail to your new address in Thailand, and inform relevant parties like your doctor or insurance provider of your move.
It's also a good idea to research local healthcare options and insurance coverage in Thailand before you leave.
By taking care of these important tasks before moving to Thailand, you can minimize stress and ensure a smoother transition to your new home.
3. What city in Thailand should you live in?
The best city in Thailand for you will depend on your individual preferences and needs. It's important to research each city carefully and visit them in person if possible before making a decision on where to live.
Here is  some information about the major cities in Thailand that may help you decide which one is the most appropriate for you:
Of course, aside from these major cities, you can also consider living in lesser-known places in Thailand, such as Chantanaburi or Rayong, which has the best seafood in the country.
4. Research safety and security measures in the city that you are going to live in
To ensure safety and security while living in Thailand, it's important to conduct research beforehand. Start by checking your country's travel advisory for any potential risks or safety guidelines. Additionally, research the city you plan to live in to learn about crime rates and areas to avoid.
When looking for accommodations, prioritize safety. It's also a good idea to learn basic phrases in the local language and keep emergency contact information on hand. Take precautions while out, such as avoiding poorly lit areas and traveling in groups. Lastly and most importantly,  keep your valuables safe to avoid theft or loss.
5. Become familiar with the climate
Thailand has a tropical climate with two distinct seasons - the dry season and the rainy season. The dry season, which is characterized by low humidity runs from November to April, and low The rainy season runs from May to October, with higher humidity and temperatures ranging from 24-31°C (75-88°F).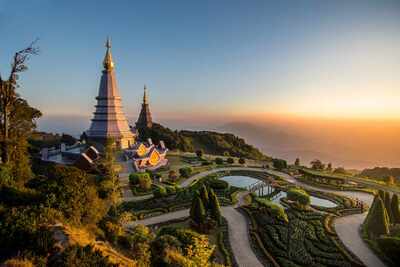 It's important to note that the southern region of Thailand experiences a different climate than the rest of the country. 
6. Preparing for your move
Preparing for your move to Thailand can be a daunting task, but with the right planning and preparation, the process can be made smoother. First and foremost, it's essential to make a checklist of all the things you need to do before your move. This can include tasks like canceling subscriptions and packing your belongings.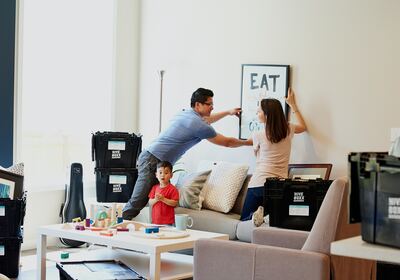 Secondly, it's important to consider your finances when preparing for your move to Thailand. This includes researching the cost of living in Thailand and creating a budget to ensure that you have enough money to cover your expenses. You may also want to research the best way to transfer money to Thailand and consider opening a bank account in Thailand to make managing your finances easier.
7. Transportation of belongings
When it comes to transporting your belongings to Thailand, you have a few options to consider. If you plan to bring a lot of personal items, you may want to hire an international moving company. You can also consider shipping your items by sea or air freight. It's important to research the different options and choose a reputable company that can ensure safe and efficient delivery.
One company that you may want to consider for your transportation needs is DocShipper. We specialize in international moving services and can help you with every step of the process, from packing and shipping to customs clearance and delivery. With our expertise and experience, you can have peace of mind knowing that your belongings are in good hands.
8. Research local regulations and laws
To avoid legal issues when moving to any foreign country, it's important to research local regulations and laws, and Thailand is no exception. This can be done by checking the official government website, looking for local resources like expat forums, and consulting with a lawyer if needed.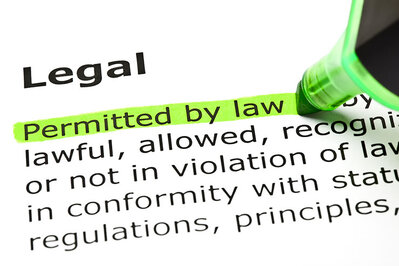 It's also important to be aware of cultural differences and stay up-to-date on any changes in the laws and regulations.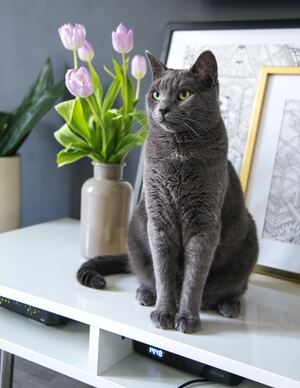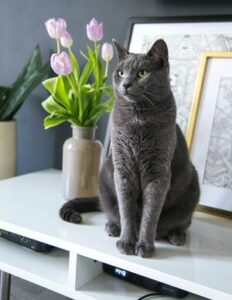 9. Research the process for importing pets into Thailand
As a pet owner, it's important to research the process of importing pets into Thailand. Start by checking the Thai government website for information on the requirements. And then look for reliable resources such as travel blogs, expat forums, and pet relocation companies for practical tips.
Also,  check the specific requirements for your pet and find a reputable vet who can provide the necessary documentation. If you have any questions, feel free to contact the Thai authorities directly. 
DocShipper info: Want to make sure that your pet is safe throughout the relocation process? Ensure the safety of your beloved pet during the relocation process with DocShipper's expert care. Contact us to know more.
10. Work in Thailand
Working in Thailand as an expatriate can be a rewarding experience, but it is important to understand the work culture and obtain the necessary work permits before starting a job.
With the right preparation and mindset, you can find fulfilling job opportunities in Thailand. In order to work legally in Thailand, you need to obtain a work permit. This involves obtaining a non-immigrant visa and submitting an application to the Ministry of Labor. The process can be somewhat complex, but many employers in Thailand will assist with obtaining a work permit for their foreign employees.
Job opportunities for expatriates in Thailand exist in industries such as teaching, hospitality, and tech. Knowing the Thai language can be an advantage in many job opportunities, and expatriates should be mindful of the work culture that emphasizes respect and hierarchy. Salaries for expatriates are generally higher than for Thai nationals, and companies offer benefits such as health insurance, housing allowances, and vacation time.
And of course, just like everywhere else in the world, networking is very important and can help in finding interesting job opportunities. You can also find a job with the help of Linkedin or JobsDB, which is considered to be Thailand's number 1 jobs, employment, career and recruitment site.
11. The real estate market in Thailand
With proper research and preparation, it is possible to find a suitable property in Thailand. Foreigners are allowed to own up to 49% of a condominium building, but cannot own land or houses outright. The cost and availability of real estate in Thailand vary by location, with popular tourist destinations being more expensive. Real estate agents are common and can be a valuable resource for buying or renting property, but it's important to choose a reputable agent.
In addition to condominiums, houses, villas, and apartments are available for rent or purchase. When renting, it's important to carefully review lease agreements and be prepared for security deposits and advance rent payments. 
12. How to get around in Thailand
Getting around in Thailand can be an adventure, but with a little bit of planning and patience, you can easily navigate the country's transportation options and get around with ease. Taxis are widely available in most major cities in Thailand and are relatively inexpensive.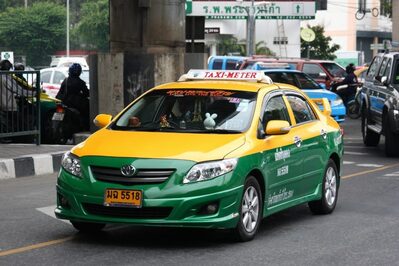 Tuk-tuks, three-wheeled motorized vehicles are also a popular way to get around and can be negotiated with the driver before getting in.
Another popular mode of transportation would be motorbikes which can be a quick way to get around in heavy traffic, but it's important to wear a helmet and exercise caution while driving. Songthaews, a type of shared taxi, is a more affordable option than taxis or tuk-tuks, but may not always follow a set route.
Public transportation options in Thailand include buses, trains, and subways in some cities, which can be a more affordable option than taxis or tuk-tuks but may not always be the most convenient option depending on where you're going.
13. Sell your car
If you're planning to become an expatriate in Thailand, selling your car before leaving your home country might be necessary. Importing cars to Thailand is strictly regulated, and it may not be cost-effective to ship your car. Research the market value of your car and its condition, mileage, and necessary repairs to determine its worth before selling.
Online car selling platforms or working with a dealership can be helpful in selling your car, but make sure to have all necessary paperwork such as the car's title and registration in order. If you're still making payments on your car, contact your lender to pay off the loan and transfer ownership. Lastly, don't forget to cancel your car insurance policy and notify your local DMV or equivalent authority that you've sold your car.
14. Setting up utilities
When relocating to Thailand, setting up utilities such as electricity, water, internet, and gas is a necessary step for your new home. The Provincial Electricity Authority (PEA) provides electricity in most areas, and the Metropolitan Waterworks Authority (MWA) supplies water. To apply for these services, all you need is to present your ID or passport and a copy of your rental agreement or proof of ownership and pay a deposit.
In addition, there are several providers for internet and cable TV services such as True, AIS, and 3BB, which can be applied for online or in person. If you require gas for cooking or hot water, you can get your supply from a local dealer or gas station, where you will need to provide the same documentation as the other utilities.
15. Research local food and lifestyle options
Researching local food and lifestyle options in Thailand can be a fun and exciting way to learn about the culture and community. One great way to start is by checking out local markets and street vendors for authentic Thai cuisine.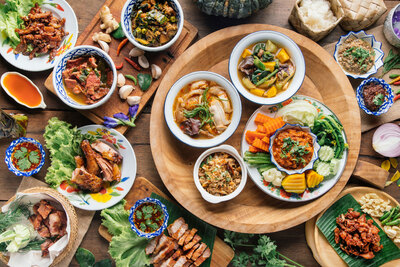 You could also join local social media groups and forums, which could also provide you with valuable insight into popular restaurants and activities in the area.
You can also ask for recommendations from your new colleagues, neighbors, or friends. Additionally, many cities have expat groups that organize events and outings to help newcomers explore and get to know their new surroundings.
16. Learn a little Thai
Learning some Thai can help you connect with the culture. Thai is a tonal language, meaning that the tone or pitch of a word can change its meaning. There are five tones in Thai: high, mid, low, falling, and rising.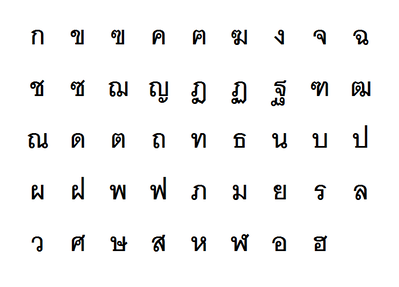 Thai also has its own script, but it's not necessary to learn it for basic communication. Some useful phrases to learn in Thai include greetings (sawasdee khrap/ka for hello), thank you (khob khun khrap/ka), sorry (khor thot khrap/ka), and yes/no (chai/mai chai).
For those who are keen on learning Thai, There are language schools and classes available in Thailand for learning Thai. Online resources and language learning apps are also available. Immersing yourself in the language and culture can also aid language learning, such as speaking with locals, watching Thai TV shows, and movies, and listening to Thai music.
17. Purchase a SIM card from any mobile service provider
Purchasing a SIM card in Thailand is very simple. All you have to do is choose a mobile service provider that meets your needs and check their requirements for purchasing a SIM card. Next, visit a retail store or booth operated by the provider, select a plan and package that fits your usage needs and budget, and provide any necessary identification or residency documents.
After purchasing the SIM card, the retail store or booth operator will activate it for you. It's possible that you'll need to top-up your account with additional credit, which can be done at the retail store or through online channels provided by the mobile service provider.
18. Open a Thailand bank account
Opening a bank account in Thailand starts of course by choosing a specific bank. And then, all you have to do is gather the required documents like a passport and proof of address, visit the bank in person to fill out forms, and deposit funds to activate the account.
Additional services like online banking and ATM cards can be added later. It's important to check with the specific bank for their specific requirements and procedures.
19. Get Health insurance
Getting health insurance is crucial when living in Thailand to avoid high medical costs. First of all, there are two types of insurance available: local and international, with varying coverage and cost. As for local plans, they start at around ฿2,000 ($63 USD) per year, while international plans can cost several thousand dollars.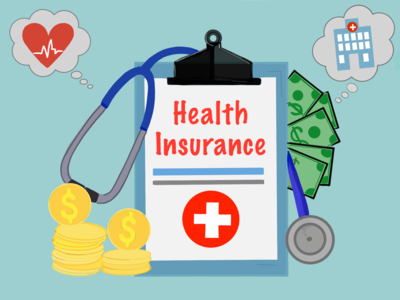 It's important to review coverage before purchasing and note that many employers offer health insurance as a benefit. Insurance can be purchased directly from companies such as Aetna, Cigna, and Bupa. Research and compare insurance plans to find the one that fits your specific needs and budget.
20. Understand the Thai tax system
To avoid any potential legal or financial issues,  it's important to understand the tax system in the country so that you can ensure that you are meeting your tax obligations. keep in mind that taxation in Thailand is based on a resident or non-resident system.
If you are a resident of Thailand, you are required to pay tax on all income earned in Thailand and abroad. However, if you are a non-resident, you are only required to pay tax on income earned within Thailand.
Depending on your income level, personal income tax rates in Thailand range from 0% to 35%,  the first 150,000 baht of annual income is exempt from tax, while income above 4 million baht is taxed at the highest rate of 35%.
It's important to note that as an expatriate, you may be subject to different tax rates or exemptions depending on your country of origin and any applicable tax treaties between your home country and Thailand.
21. Network and make friends
Making friends and networking in Thailand is important for you. Ways to meet like-minded people include joining clubs, attending events, volunteering, and participating in sports.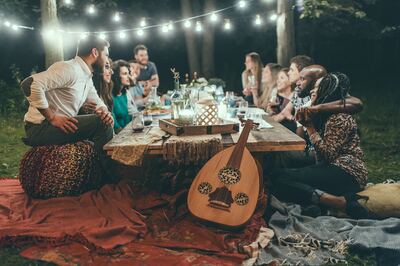 It's important to show respect for Thai culture when building relationships. Language exchange programs are another way to make friends while improving language skills.
FAQ | Moving to Thailand? Here's Your Complete Checklist to Get You Started
What should i know about Thai culture?
Thai culture is influenced by Buddhism and values respect for elders and social hierarchy. It is important to avoid causing offense to others. Thai cuisine is known for its flavorful dishes and emphasis on fresh ingredients. Festivals and celebrations are important and often centered around Buddhist holidays. Criticism of the Thai royal family is illegal.
Do I need to speak Thai to live in Thailand?
While it's not necessary to speak Thai, learning some basic phrases and expressions can help you communicate with locals and navigate daily life more easily. Many Thais also speak English, especially in urban areas and tourist destinations.
How can I exchange currency in Thailand?
You can exchange currency at banks, exchange kiosks, or money changers in Thailand. It's important to compare rates and fees to get the best deal. It's also recommended to exchange money at reputable and licensed locations to avoid scams.
Is Thailand an expatriate-friendly country?
Thailand is a expatriate-friendly country with a low cost of living, beautiful scenery, and rich cultural heritage. However, you may face challenges with language and cultural differences so research and preparation are key, but overall, Thailand can be a great place to live and work.
DocShipper info: Do you like our article today? For your business interest, you may like the following useful articles :
DocShipper Advice : We help you with the entire sourcing process so don't hesitate to contact us if you have any questions!
SIAM Relocation - Best price moving company in Thailand !
Due to our attractive pricing, many customers trust our services and we thank them. Stop to overpay the services and save money with our tailored package matching will all type of removals, from small volume to full house, let us find the best and cost-effective option.
Communication is important, which is why we strive to discuss in the most suitable way for you!